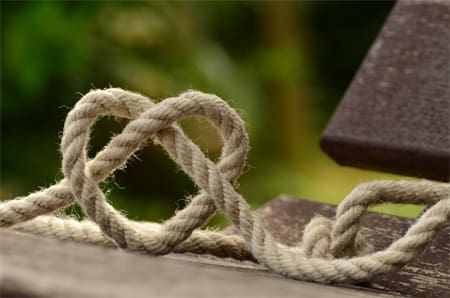 Eleven years ago, I was there – at the end of my rope. Holding on by threads, I knew if I let go I would plunge into a bottomless pit of despair. When cancer strikes, and death comes, and your life is changed forever, you are numb from the pain of loss. Any strength you've had is gone, drained from your body and your emotions by the exhaustion of grief.
I would find myself smiling one minute, like everything was normal, and slipping into unbelief the next minute – all while trying to maintain my sanity in a world that didn't seem to skip a beat to its own rhythm. I grappled with God. "Why?" I pleaded. "Let me wake up from this nightmare."
Perhaps you have also experienced death and grief, along with pain and suffering. Your death could have been the end of a marriage or a relationship. Your loss could have been a job or a home. Your pain and suffering could have been a crippling disease or a debilitating illness. Maybe you are even going through something now. You find yourself at the end of your rope – holding on each day with all your strength, grappling with God, and pleading to wake up from your nightmare.
Over time, I began to release my anguish and began to rest in God.
I prayed for God to breathe life in me so I could at least try to function on a somewhat fractured level of normalcy. I trusted Him to get me through each day . . . one day at a time.
And, He did, and He can for you too.
Day by day, He immersed me in His mercy and grace, showering me with His great love and kindness. His comfort and compassion soothed my aching heart as I began to cling to His word hour by hour. Sometimes that's all I did in a day: hold my Bible and read out loud to myself. I felt God's faithfulness as I'd never felt before. I discovered an intimacy with Him that can only come through unbearable grief or unimaginable loss.
Each day His strength became my strength, and slowly, sorrow and joy became one. I have known great sorrow, but I have also known great joy because of Jesus.
I still miss Bill like crazy and think of him every day. With each passing year, I have, and will continue to get through this life-changing loss as I move forward with my focus on Christ.
Today, eleven years later, I find myself holding on to the end of that rope again. My mind seems consumed daily with the stress of a COVID spike, the national situation, and the Arizona fires – all of which seems to press in around us and then slowly becomes a part of us. Fear of the unknown, anxious about when it will all end, concern for family and friends . . . it can seep through our daily lives like water seeps through a sponge when it can hold no more.
But our ropes my friends, are not just ordinary ropes.
They are a visual reminder that the strands of our life are woven tightly with God's faithfulness, His word, His promises, His hope, His strength – and our prayers, our trust, and our perseverance. Even when we feel like we are at the end of our rope, it is strong enough to hold us. You see, God will never let us go, our part is to never let go of Him.
And after you have suffered for a little while, the God of all grace, who called you to His eternal glory in Christ, will Himself perfect, confirm, strengthen and establish you. I Peter 5:10
From My Heart to Yours,
Learning to let go one more time
"It's my party and I'll cry if I want to
Cry if I want to, cry if I want to.
You would cry too if it happened to you."
(A popular song from the 60s by Lesley Gore)
You thought you were ready for this, but you never expected it to be so hard, or that you would cry so much.
You fought back the tears as you hugged tightly, secretly never wanting to let go, trying to be strong, even brave at this momentous moment. The words swelled up in your heart. There was so much you wanted to say,
"Don't forget to call or text me.
Get enough sleep.
Eat healthy.
Don't stay out too late.
Choose your friends wisely.
Remember to wash your clothes once a week.
And oh, please be careful-it's a crazy world out there."
But you didn't, at least right now you didn't. You've said it all a hundred times before this day.
You simply whispered, "I love you."
You were trying hard to act like a grown-up mom to this growing-up child, who was growing-up too fast, too soon. The voice in your head said, "Wasn't it just yesterday that I rocked you to sleep and held your hand as you took your first step? Now you are taking your first step into college." You hear this growing-up child that you cheered on in life, now trying to cheer you. "I'll be fine mom…don't worry…."
All the way home, you cry uncontrollably, mascara running down your face, snot pouring out your nose. This is not the time to hold back. Let it come. You reach for a sleeve, an arm, a Kleenex – anything to stop the dam that broke. You just left behind your baby – your firstborn, your middle child, or your youngest. It doesn't matter which one, it still hurts. It's cutting another umbilical cord, it's letting go of a part of who you are. It's facing an empty, clean room with the bed made, no shoes or clothes scattered everywhere, and posters still hanging on the wall. Oh, how you yearn to see that room messy just one more time to have glimpses of life there.
In case you are wondering, I was the "YOU" years ago when I experienced the emotional transition and unexpected adjustment of sending off our oldest, and then our youngest, to college. My head knew all the right things – we raised them for a time such as this. We gave them roots in family and in Christ and wings of confidence to soar and become all they could be. We knew it was time for them to become independent and begin to figure out life on their own. We knew one season of life had ended and another season was about to begin. That being said, it was not easy to emotionally let go or to stop crying for weeks as I grieved the loss of their daily presence in our family circle.
I couldn't seem to get a grip as I struggled with the emptiness that seemed to consume me. I particularly remember one time when I was laying face-down in our hammock, crying so hard my tears went through the hammock and on the patio. It was one of those messy-slobbery-ugly-cries. I missed tripping over the sports shoes that were always taken off at the bottom of our stairs after school. My refrigerator seemed empty. The house was too quiet. I missed the laughter, chatter, and even the music that had a good beat.
The sadness in my empty heart was eventually filled with happiness and peace as I began to see our growing-up children begin to thrive on their own. I had done my part as a mom, now it was time to leave them in God's hands and ask Him to protect, guide, and equip them in their new journey. I needed to move forward with faith and trust, knowing God would always be with them. You do have to come full circle with all of this and, at some point, realize that it's not all about you, it's about them. You are then taking your first step in letting go.
Remember these things:
You will always be their mama and they will always need you.
You did a good job raising them. Don't second guess that.
Say often to them, "I believe in you. You can do this."
Let them manage their own lives and figure it out.
They will make mistakes and they will learn from them. Don't short-circuit that.
Let them know, no matter what happens, you will be there for them.
Pray for them every day.
And, be assured they will come home again – with a suitcase full of dirty clothes, ready to eat a home-cooked meal!
I have dedicated him to the Lord; as long as he lives he is dedicated to the Lord.  I Samuel 1:28
From My Heart to Yours,

Could it really be – eight years? That seems like so l-o-n-g ago. To me, it seems like only yesterday. Yet, it was eight years ago this month that my husband, Bill, lost his battle with cancer. The loss of his presence still lingers with me and, in a quiet moment, I find myself smiling as I reflect on a few of the things I still miss…
his voice that I long to hear,
his footsteps as he walked in a room,
his soft whistle which was music to my ears,
his smile that made everything right in my crazy world,
and his touch that made my heart skip a beat.
I miss his insight and wisdom when I needed perspective in a situation.
I miss sharing my day and sharing my heart with him.
I miss how he brought me a cup of coffee every morning.
I miss watching him teach our grandchildren how to flip "papa's pancakes" on the grill.
I miss walking with him to church every Sunday.
I miss the man who lived out Jesus to me as we grew older together.
The loss of Bill's presence left a void in my life and heart that took me to my darkest hours on the steps of my soul. It was there that God met me in my early years of grief, soothed me with His word, and filled me with His peace and comfort. I had no idea of the magnitude and depth that God's love and care could be….and for eight years God has not once forgotten or left me.
Our marriage was not perfect by any means. When you've been married 45 years, you have your bumps along the way. Sometimes there were more valleys than mountain tops, more tears than laughter, more hurt than healing. There were years when we were more disconnected than connected, more broken than whole. There were even times when I wanted to give up and walk away – marriage was just too hard.
But I didn't. He didn't. We didn't. Even though Bill worked 24/7 in a demanding job, and I was enmeshed in our two small children, we knew we had to make a choice to commit to our marriage and whatever it took to make it work. We began to focus on God instead of our issues and problems. God's word became a light on our path. We prayed together, went to church together, joined marriage classes and marriage small groups, and hung out with mentors who modeled a Godly marriage. We learned how to communicate and talk to each other without blaming each other for everything that was wrong in our relationship. Things didn't change overnight, but over time we began to change. We began to grow deeper roots in Christ and, as our roots entwined with each other, we were strengthened and equipped as one, to weather the storms in our marriage.
My deep loss of Bill's presence, has been filled with an even deeper gain of the presence of Jesus.  My presence will go with you…Exodus 33:14
And, because of Jesus, I can face another year with peace, contentment, and the cherished memories of our 45 years together.
I want you to claim my life verse that I claimed for my marriage and kept on my favorite picture of us as a reminder of God's faithfulness:
Now to Him who is able to do exceeding abundantly beyond all that we ask or think, according to the power that works within us, to Him be the glory. Ephesians 3:20-21
So why am I sharing all this through my tears of perseverance? You…you, might just be the woman reading this that needs hope. You are going to make it through your loss. You can make it in your marriage. You will come out of your pit of despair.
Never give up, never lose hope.  And so, Lord, where do I put my hope? My only hope is in you. Psalm 39:7
From My Heart to Yours,

A friend stopped by our Just Moved office for a visit and during our conversation she said, "I know why I've never settled in and feel so disconnected since I moved here. It's taken me a long time, but I've finally figured it out. I've never completely unpacked and gotten rid of all the boxes that I brought with me!" She went on to explain how she had quickly unpacked all her belongings and discarded those boxes, but still had boxes of emotions and feelings that she had never unpacked.
They had become her hidden baggage of grief, loneliness, anxiety, fear, comparison, inadequacy and loss of identity. The tightly packed emotions and feelings she felt inside had kept her from starting over and moving forward with life since she moved here.
Our conversation brought back memories of my own "unpacked boxes" when we moved. Too often I became withdrawn and disconnected because I never unpacked boxes of stuff inside that needed to be handled with care and understanding. I suffered silently as I did the next thing in the routine of moving– getting our children nestled in to school and activities, settling in a new home, finding a church and learning my way around the area. With Bill's new job being all consuming, there was little time left for us. I kept that box of hurt inside, too.
As I began to grow in my relationship with God, I knew that I had to begin the process of unpacking those moving boxes that seemed to accumulate move after move. I prayed for His guidance to not only help me unpack, but to get rid of those boxes. I began to cling to the promises in His word (and believe them).
This is the life-changing sentence of scripture in I Samuel 17:22 (NASB) that helped me know where to begin…
Then David left his baggage in the care of the baggage keeper…
David, the shepherd boy, left his "baggage" in care of the "baggage keeper" when he had to overcome and defeat the giant, Goliath. He left behind the things that would keep him from moving forward to get to the battle line to defeat Goliath.
You can leave your baggage of unpacked boxes, full of feelings and emotions, in the care of your personal Baggage Keeper–Jesus Christ. He is the one who can carry all your "stuff." Nothing is too heavy for Him. Not only will He lighten your load, He will bear your burdens. He will equip you to unpack, overcome, and release whatever is keeping you from moving forward.
In other words, lay it all down at the feet of Jesus. Daily let it go. Daily remind yourself that you are not unpacking alone. Yes, I said daily. It's so easy to pack those boxes and pick them up again each day. We try to handle our feelings and emotions in our own strength and manage them alone. It is an everyday battle, my friends.
I, too, have to choose to leave whatever giant emotion I'm facing for the day at the feet of Jesus. Many a day, He carries me in His arms because I'm too weak to stand alone. I fight the battle of emptiness with the loss of Bill. Many a day, I fight feeling overwhelmed with house maintenance, ministry needs, people needs and even my own emotional needs. Some days I fight feeling inadequate to write or speak and battle the giant of comparison. There are times when unpredictable grief washes over me like waves in the ocean. These are all boxes of giant emotions that I choose to fight as I lay them down daily and give them to my Baggage Keeper.
What still needs unpacking in your life? What feelings and emotions are keeping you from starting over and moving forward after your move, or any time?
Choose now to run to Jesus and lay them down at His feet. Begin to start over with hope and move forward with faith.
From My Heart to Yours,
Isaiah 43:19

Behold, I will do something new,
Now it will spring forth;
Will you not be aware of it?
I will even make a roadway in the wilderness,
Rivers in the desert.
Many of you, like me, have had a "wilderness experience" in your life. It's when uncontrollable circumstances, or a life-changing crisis rocks your world. When you feel like you are aimlessly trying to find your way through a maze of darkness, and just survive–one step at a time. You feel empty, confused, overwhelmed, and desolate.
I know some of your stories, your struggles, your heartaches, and your pain. Your wilderness experience could be with a physical illness, with emotional anguish, with financial hardship, or with a broken relationship. It could be in your marriage or in being single, in your aloneness, or in coping with a loss.
My wilderness experience began on a Sunday morning when the surgeon gave us the news that Bill had an aggressive and rare form of colon cancer that had spread to his liver–and there was nothing they could do. Then, just four months later on a Sunday morning Bill went home to be with the Lord. That was almost three years ago, and there are still days when I struggle to get through the emotions of my loss. I choose daily to put one foot in front of the other and press on.
God made a roadway to survival in my wilderness. In the midst of my sadness, God made a roadway to finding joy. In the midst of my loss, God made a roadway to finding contentment. In the midst of my longing for Bill, God made a roadway to finding peace.
God will provide a roadway in your wilderness, my sisters! Listen to His voice when you feel confused. Learn His word when you need comfort and reassurance. Lean on him when you don't have all the answers. Rest in Him when you are weary and worn-out. Trust Him when your circumstances overwhelm you.
It's not always easy, in fact, it's downright hard some days. There will be times when you feel like you can't do anything but breathe. But remember this: When God provides a roadway IN the wilderness—He provides a way OUT of the wilderness. He did it for me, He will do it for you.
It is Jesus who will meet you at your point of need. It is Jesus who will soothe your soul, and comfort your heart. It is Jesus who will give you hope to face tomorrow.