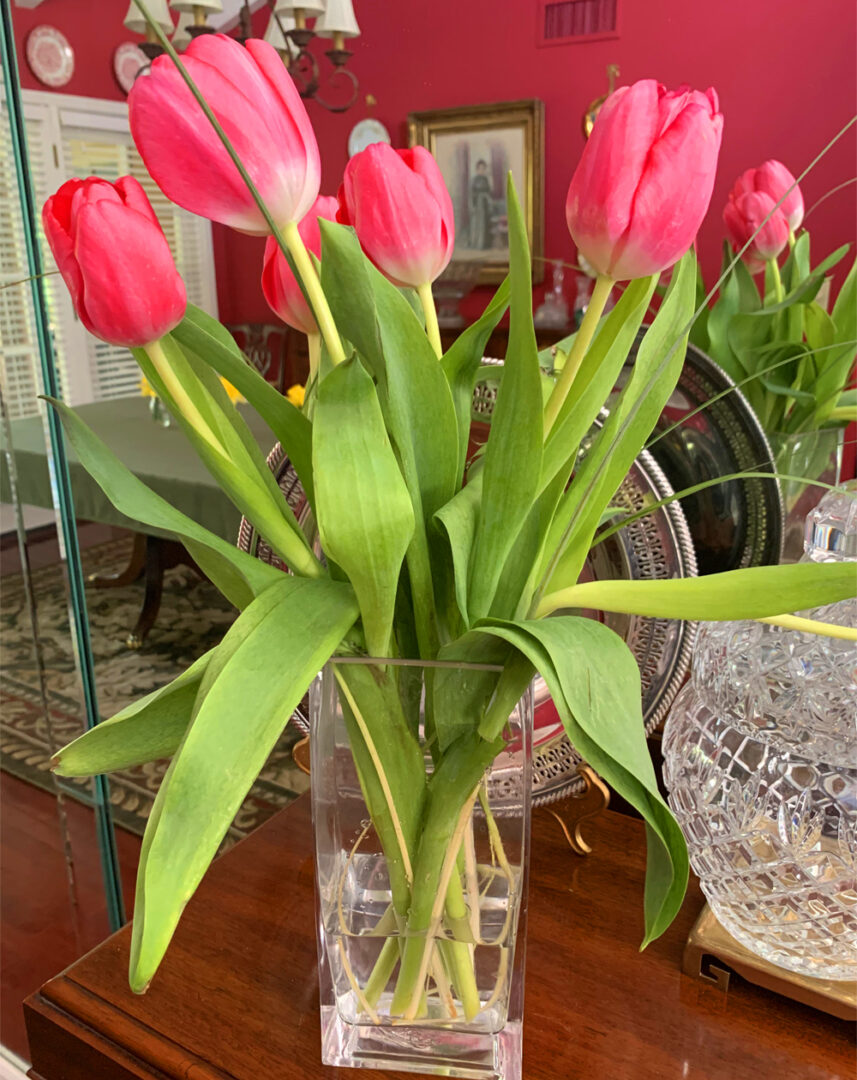 Arranging flowers in little vases makes my heart happy. I always buy flowers that are the least expensive at the grocery store as a little treat and day-brightener for myself each week. When flowers are too expensive, I'll improvise by cutting greenery and anything that's blooming in my yard to fill a vase. However, this week tulips and daffodils were 2.99 a bunch, so I carefully chose the prettiest ones to decorate my table for a get together with the women from our Just Moved study and left them in water overnight.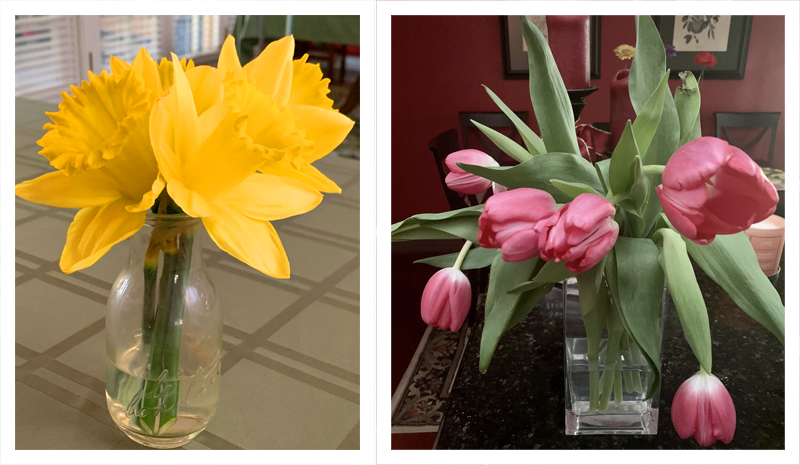 When I walked in the kitchen the next morning, I couldn't help but notice how droopy my tulips were and how perky the daffodils were. My first thought was, "What the heck?" My second thought was to pour a cup of coffee and try to figure out what happened.
I replayed how careful I had been to get them home among all the groceries, made sure I cut their stems slightly slanted at the bottom so they could breathe, then immediately put them in water so they could thrive. No wait! I cut the stems of the daffodils, but in my hurry to unload the groceries, I forgot to cut the stems of the tulips! Before my second sip of coffee, I had the tulip stems cut and arranged on my table, hoping they would begin to lift their fragile blooms. I then added a few pennies to the water (best kept secret), and by mid-morning the tulip blossoms were indeed thriving!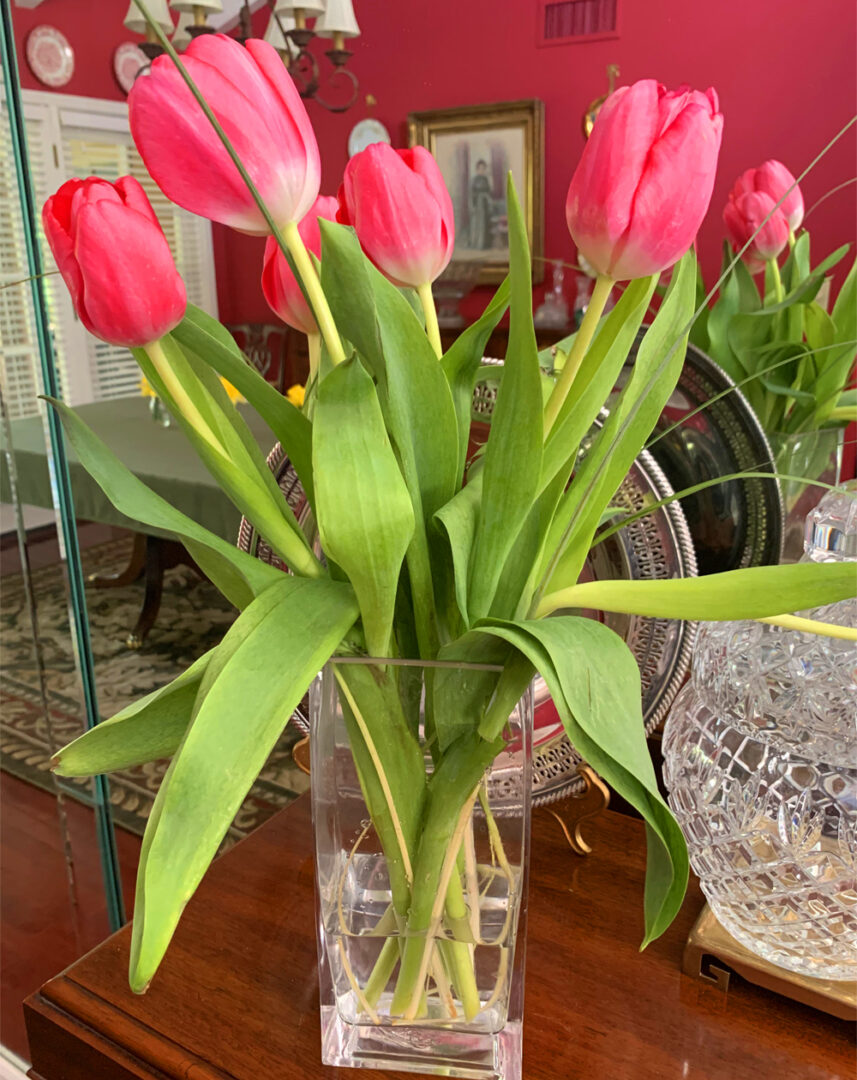 Through this small incident, two things came to mind:
Never forget to cut the bottom of the stem for a thirsty flower to get water.
We are similar to a thirsty flower!
I hate to say it, but I become droopy if I'm not daily connected to Jesus Christ, my source of living water.
With the hot summer coming, schedules and routines will be a little less demanding and vacation plans will fill our thoughts. It's easy to get distracted with summer projects and even get a little lazy with the things we know we should do. I certainly need to be reminded how easy it is to dry up and wither spiritually anytime I become disconnected from the living water of God's word. Perhaps you need a gentle reminder too.
Simple things you can choose to do to stay connected to Jesus over the summer
Try reading scripture out loud. You not only see the word, you hear and say the word. Don't be self-conscious about reading a verse out loud. Not only will you hear it clearly but someone else might too.
You might want to pray scripture inserting your own name or the name of someone you are praying for. God's word is written for you and me and for those we care for. Claim it with a personal name!
For future reference, use a blank journal and write a topical word like joy, hope, or peace at the top of a page. Look up the scriptures that use that word with a concordance (sometimes found in the back of your Bible), and write the scripture on the page that applies to the word. This is a wonderful way to recall scripture that means something specific to you, and for you to share with others.
Personalize your Bible by writing in the margins. Write a word, short sentence, or a date by verses that are especially meaningful to you. Underlining a favorite verse makes it easy to find on a page. My Bible is so marked up! I date verses that speak to my heart during a particular time of need or celebration in my life.
Listen to praise and worship music when you are on a walk, in your car, or on an airplane! Worship music can soothe and comfort your heart and emotions.
Find a quiet spot to pray and meditate on God's word or on a devotional. Our homes can become noisy when children are out of school for the summer or out-of-town family is visiting. Be intentional about carving out a quiet time of silence. It will refresh and renew your soul.
And don't forget to stop and smell the flowers!
Have a blessed summer. Stay safe, stay well, and stay close to Jesus!