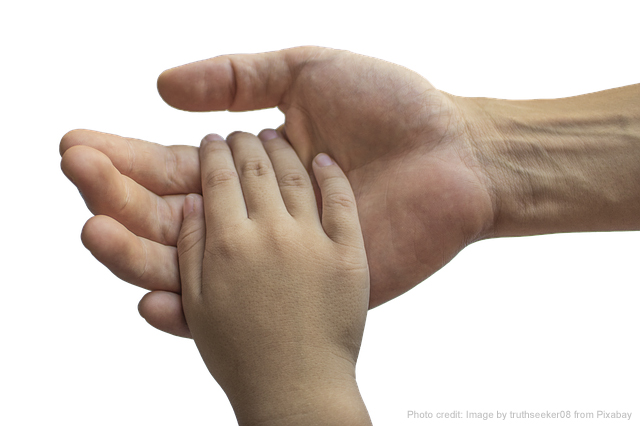 I continue to marvel at the life lessons I learn from my adult children as they teach their children through example. Recently my daughter and I were reminiscing about my grandchildren's early childhood, and she shared with me about her experience at the zoo with my youngest grandson who, at the time, was six years old.
There is an area at the zoo where the children can safely pet the animals – even try to touch the fish in water. C.J. did not hesitate to pet the animals, but fish were a different matter. He wanted to reach in the tank and touch them as they swam by, but was afraid they might nip his hand. So Ginger said that she would put her hand in the water first, and then C.J. could put his hand on top of hers, as she guided his hand through the water. That's all it took to diminish his fear and apprehension.
Together, Ginger and C.J.'s hands waved and swirled through the water, touching the fish. When C.J tells the story, it's as if he had touched the fish himself.
His security and confidence was in the touch of his mother's hand.
As Ginger shared this story, I immediately paralleled her hand with the hand of God in our lives. When we place our hand on His hand, He guides us safely through the unknown. He protects us and calms our fears when our security and trust are in Him.
Such a simple lesson, yet so profound.
The touch of God's hand in our lives can enable us to do more than we can imagine.
Since my husband Bill died, there are many things I've had to do that I've never done before. I often lack the confidence and the courage to do something that I feel is beyond my capabilities or fill me with fear of the unknown. Plunging into the uncharted waters of life takes me beyond my comfort level. How easily I can forget that I am not alone. Sometimes I close my eyes and envision God's hand guiding me through the challenges and hardships I face. I imagine Him wrapping His fingers around mine to assure me that we are navigating life together.
My fear subsides. His peace and comfort calms my soul.
My confidence and security is in the touch of my Master's hand.
Perhaps you are facing uncharted territory in your life, like moving to another state, financial issues, an unexpected illness, chronic pain, a difficult divorce, or the devastating death of a loved one. You might be fearful of all the unknown circumstances that lie ahead and are beyond your control.
Imagine placing your hand on God's hand as a reminder that you are not alone. Cling to Him as if your hands are entwined as one. On those fearful days when you feel like you are losing your grip, don't be anxious – He will never let you go.
So, my friends, listen up. If I can plunge into the unknowns in life, so can you. Be brave, be bold, be courageous, and be confident in God. He can equip, enable, and empower you to do the things you think you can't do.
I believe in you! You can do it!
Now to Him who is able to do immeasurably more than all we ask or imagine, according to His power that is at work within us…" (Ephesians 3:20).
From My Heart …