I have many treasured childhood memories that continue to impact my life, even today. One in particular is my grandmother, Leila Brown, who was known by her grandchildren, nieces, nephews, and cousins, as simply, Mother Brown. She was, indeed, another mother figure to all of us and the matriarch of our family.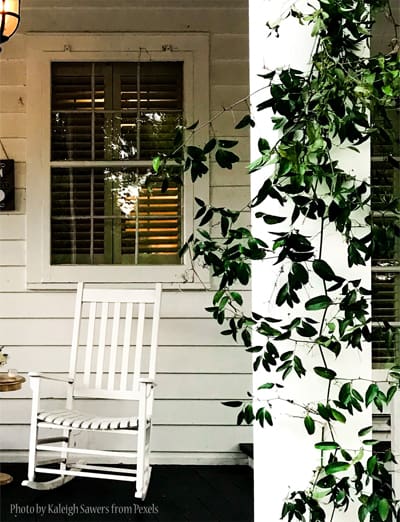 All of us loved to gather at her house during the summer, swing in the hammock and rock in the rocking chairs on the porch that wrapped around the house from the front to the back. Then we would venture in the back yard to see who could find the most pecans on the ground under the pecan trees. This was the house where my cousin and I would climb up the oak tree and swing across the driveway, hanging on to the wisteria vine that grew entwined in the strong limbs of the oak tree. I often refer to this in my teaching as a visual for how we should be entwined as one with God and He will hold us across our road of life.
I vividly remember Mother Brown's simple print cotton dresses with buttons all the way up the front, buttoned to the little round collar at her neck. She always wore stockings and the same black lace-up shoes. She seemed to wear an apron from morning to night. I remember her mostly being in the kitchen with a kitchen towel thrown over her shoulder to easily dry dishes at the sink. This became a habit I often find myself doing without even thinking about it.
My most cherished memory of Mother Brown was in her favorite rocking chair, with her worn and tattered Bible open in her lap. She would rock back and forth as she prayed for each person in our family – especially for my daddy, who was deployed and serving in the Korean War. I watched her underline scripture with a pencil, listened to her pray out loud, and heard her praise God in all circumstances.
This. This was the beginning of forming my prayer life.
To this day, I can see and hear Mother Brown rocking and praying. A childhood memory that subconsciously left an impact and became a legacy Mother Brown left behind without ever knowing.
I don't have a rocker like she did, but when I'm deep in prayer I find myself actually rocking back and forth wherever I'm sitting. Many times I will open my Bible in my lap, underlined in pen throughout the pages, and drink in God's encouraging word like a refreshing and much needed cup of cool water.
Writing this blog has made me stop and think about how I influence those who are watching and listening to my actions and words. It doesn't matter how young or old we are, or what season or stage of life we might be in – we can influence, impact, or leave a legacy to someone.
People in our life are listening to what we say, watching what we do, and reading the pages of our life.
I certainly haven't always been a model example by my actions and words by any means. But this much I've figured out in life: I can influence others by how I live my life for Jesus and the choices I make to live out the fruit of the Spirit. (…the fruit of the Spirit is love, joy, peace, patience, kindness, goodness, faithfulness, gentleness, self-control… Galatians 5:22-23)
Mother Brown sure did, and I am blessed for her positive influence on my life and the irreplaceable memories created at her southern family home. Also, I just have a feeling I was on her prayer list for many years, and for those faithful prayers, I am eternally grateful.
From My Heart to Yours,

pray without ceasing…"  1 Thessalonians 5:17

Devote yourselves to prayer, keeping alert in it with an attitude of thanksgiving…." Colossians 4:2
I wrote this timeless blog years ago about the summer adventures of my grandchildren and the things I learned from them and about them during our time together. Time has flown by so fast. Now, one is in college, one just graduated from high school, and four range from a freshman to a senior in high school.
Since this blog was so well received by both moms and grandmothers, I thought it was worth repeating. The principles are as applicable today as they were then.
---
My summer highlight is when all six grandchildren, ages ten to sixteen, gather together for a cousin reunion, better known as "Cousin Camp." (May they never outgrow that name!) All the planning, preparation, prayer, and shopping that go into our once-a-year tradition has come to an end for another summer. I loved every minute. I cherish the legacy created, the memories made, the traditions established, the pictures captured—along with finding a hair band or a tee-shirt left behind.
Some things never change, but I smile at the new changes that come each year as everyone gets older. I find myself wanting time to stand still.
They are growing up much too fast and too soon.
Gallons of lemonade and my popular peach-mango tea were still consumed, but the new crave was―water. A trail of water bottles went from room to room. I finally had everyone put their initials on the cap with a Sharpie to identify whose bottle was whose. I still line up paper cups on the kitchen counter and have each person write their name on one. Sure saves a lot of confusion and fussing over cups—and water bottles.
I still made an abundance of peanut butter and jelly sandwiches and mounds of spaghetti, but a big healthy salad was the number one choice with the girls. My oldest granddaughter loves to bake, so her desserts from Pinterest were a big hit with all of us, especially the boys.
This was the first year we didn't make crafts. Our stapler, glue, cut-out, and color craft days are over. Last year, simple was replaced with sophisticated. Crafts became a life-work for everyone, so they opted out this year.
This year, the Disney channel took second place to the Food channel and HGTV. We all enjoyed discussing the food and home shows together.
Key word—together.
Issues like fixing an overflowing toilet, running out of hot water before the last shower, and the ice maker running out of ice, never seem to change. They took more showers and spent more time fixing their hair—it comes with age, I guess.
I still took at least 100 pictures, but instead of hearing "Nana, please…n-o m-o-r-e pictures," it was, "Let me see how I look." Guess that comes with age also.
It seemed everyone was always looking for a missing flip-flop or phone charger. An empty electrical outlet was always in demand since being tangled in cords, plugs, and chargers is now a part of life.
I thought I was really clever in suggesting they each put their initials on their chargers with a Sharpie to easily identify them. They thought that was so smart. I may not know how all their electronics work, but my common sense sure was a winner. (Sharpies are my new best friend!)
This year I started a "no phone zone" and a "no phone time." Nana's rules: no phones at the kitchen table or in a restaurant during family time together, or when others are talking with you. I – w i l l – n o t – g i v e – u p – o r- g i v e – in!
My three grandsons and three granddaughters played board games anywhere they could gather around a table ― day or night. They rode bikes and boogie boards, went swimming, played kickball, wiffleball, volleyball, and softball for hours of fun and bonding. I stood on the sidelines with my pom-poms cheering them on.
The sound of giggles and conversations continued until "lights out" echoed up the stairs. Staying up late and sleeping in has become a summer ritual.
Another tradition is our "Summer Birthday's Celebration." Since we are all together only once a year, we celebrate everyone's birthday with cake and ice cream, sing Happy Birthday as a group, and each person wears my silly birthday hat and has their picture taken. Corny? Yes. But they always seem to remind me not to forget. Some things never change…thank goodness.
I watched, participated, listened, and learned. I have tucked the tender moments in my heart.
God teaches me life lessons through the world of my grandchildren and reminds me of things I know, but can easily forget, in the busyness of my daily life. Perhaps they will be a good reminder for you too.
It's not about me. I learned to put aside my schedule, my agenda, and my wants. Cousin Camp is just that—it's all about the cousins.
Have no expectations. The sooner I learned to relax and let go of any expectations of our time together, the smoother the days went, and the more fun we had. God had to work with me on this one!
Above all, don't compare. I was reminded that comparing grandsons and granddaughters who are different ages, have different personalities and temperaments, and come from two different family life-styles, is unfair to the child. Accepting their differences allows each one to be who God made them to be, without the pressure of performance to please.
Movies vs. games. There is a huge difference in watching movies and playing board games together. You have to be quiet to listen and watch a movie. Board games encourage conversation and interaction. There is a time for both, but I learned not to defer to movies to keep everyone occupied.
Making crafts creates memories. As long as they love it, do it. It gives them the opportunity to share ideas, learn from each other, and compliment each other on their accomplishment. Although my grandchildren have outgrown making crafts, they still have some of the simple things they made from years ago. When they lose interest in making crafts, there will be other ways for them to express their individual creativity. My granddaughters love to cook and bake. They create fun memories in the kitchen together.
Talk time is priceless. Whether it's sitting outside or around the dining table, be intentional about gathering together, with no distractions, to create conversation time. With a few questions, I learned about what they were thinking, things they were doing, and caught a glimpse of life through their eyes. And they learned about each other.
A little space is a good thing. Every person needs some time and space to do their own thing. I learned they don't have to always do everything together or in a group.
It's caught, not taught. Kindness, thoughtfulness, and being considerate of others are best caught through the example of how I treat them and others. Pointing out the error of their ways in front of everyone else can be embarrassing and humiliating. If I had to correct someone's behavior, I would do it one-on-one, away from everyone else. We would sit on the floor together, eye-to-eye, and talk it through, ending with a hug and a smile that conveyed my unconditional love.
Choose your battles. I learned to ask myself, "Is this a hill high enough to die for? Am I making a mountain out of a mole hill? At the end of the day, will it really matter?"
A sense of humor goes a long way. I learned to lighten up, laugh a lot, and that being silly brings giggles from all ages.
Manners matter. Please, thank you, excuse me, I'm sorry, chew with your mouth shut, and elbows off the table, have always been a part of "Nana's Manners," and manners are not left at the door at Cousin Camp. My daughter often says in jest, "You don't want to have to go to 'Nana's Manners School.' It lasts for hours!" I learned that you don't give up on what matters.
Hold hands and stick together. Cousin Camp is all about connecting with each other, building memories, and learning the importance of being a part of something bigger than yourself—your family. I learned that when you encourage them to hold hands and stick together, one day you will have the joy of seeing them do it on their own.
I am also reminded that these are not just lessons learned regarding my grandchildren, but also with my adult children and their spouses, extended family, friendships, and those I serve with in ministry. Lord, keep teaching me, reminding me, and never let me forget.
May Cousin Camp memories live on in our hearts for years to come.
From My Heart to yours,
P.S. As an encouragement to all those who tirelessly pour time and life skills into your children and grandchildren thinking, "Will I ever see the fruit of my labor and love?"―don't give up! The seeds you plant, the things you say and do, and how you continue to pursue a life worthy of imitation will, at some point, begin to bear fruit and grow. Even though we may never see results in our lifetime, God is faithful and will honor our good work in His perfect timing.
As my grandchildren get older, I see kindness and thoughtfulness emerge all the more. I hear manners being practiced at the table and with others. And just recently when all the cousins were together for a yearly visit, they were united and bonded as a family who has connected and built memories together.
May Cousin Camp memories live on in our hearts for years to come…
It was pure joy to host a "Tea Party" recently for a dear friend and her guests. The food was prepared by a lovely English friend (thank goodness for that!), so I could focus on what I love best―getting the table ready with all the details and little things I love to do. I plan ahead, make a list, and do all the preparation ahead of time. Then I can focus on the people, not the preparation, when the party starts.
Let me stop right here to say that usually I am more casual than formal when I have a party. The most important thing is for everyone to feel special, welcomed, and loved―whether I use paper plates or china, red solo cups or crystal, plastic utensils or sterling silver, paper or linen napkins.
But then there are times when I love to go all out and use the lovely things passed down to me from my mama and grandmother, especially for a tea party. Let's just say it's part of my southern heritage and the legacy of tradition in the south.
I had not taken out many of the things I wanted to use for this party in a long time. You might think I'm a little silly, but I was pleasantly surprised at how it soothed my soul to recount the cherished memories of the people who gave me each thing as I washed, polished or ironed it. It was a step back in time. A ritual that slowed down my usual fast-pace day. What would normally be considered a task, became very enjoyable as I let my mind wander back to family and friends from years past.
I remember my mama giving me the few pieces of china she had gotten when she and daddy married. Back in the 40's, giving a gift of fine china was hard for those who farmed crops in the small country towns of South Carolina.  She would tell me to use it often and enjoy it. "Don't let it sit on the shelf, Susan," she would say. Thanks for the reminder, mama. I need to be better at that.
I remember when my grandmother passed on some of her crystal goblets, linen napkins, and doilies. Some had a few stains that couldn't be gotten out with just soap back then. I call them "story stains." I smile when I recall the stories told around the dining room table as food was spilled―and wiped up―with a napkin.
When I was eight years old, I carved my initials in my grandmother's sterling candle holder that always sat on a small table in her living room. Guess who got the candle holder years later! Now it proudly sits on a small table in my living room.
Coming from a large family on both mama and daddy's side, I was blessed with two grandmothers and lots of aunts who gave all the grandchildren and cousins some reminder of them for our home. I cherish each thing that helps me set a pretty table today.
I remember dear friends over the years who gave me a teacup for a special occasion to add to my collection. Each one holds a special memory of their friendship as we shared laughter and tears together over a cup of tea or coffee.
And, I tenderly remember when Bill had just gotten out of the Air Force and was going to college on the GI Bill. We didn't have two nickels to rub together in those early years of marriage. We both had part-time jobs and I was pregnant. He came to me in great anguish as he asked me to consider selling the few sterling silver place settings we had gotten at our wedding to help pay hospital expenses for the birth of our baby. Of course I said yes. You do what you have to do when times are hard. He promised that some day he would replace every piece and, years later, he did just that. I now have enough place settings for my family around the table.
Now let me put all this in perspective. You see, all these lovely things, are just that―things. They mean nothing without the love behind them. Some of you may have nothing passed on to you but the memories of a fractured, painful past with a disconnected family.
This is what you need to remember: It is never too late to start making memories and to start traditions now, for your children and for your grandchildren.
You don't need "things" to pass on. Give them yourself, your love, and live out Jesus in your home.  
That, my friend, is the greatest heritage, the greatest thing you can pass on to your family that will affect generations to come.
"Lord, you alone are my inheritance, my cup of blessing…." Psalm 16:5 NLT
Jesus expressed great hospitality even though He never owned a home.
He never possessed a set of china and never wrote a book on etiquette.
Without beverage, Jesus refreshes us,
Without a table, He has banqueted us.
Jesus embraces us when we are filthy, oppressed and undeserving.
Jesus welcomes us graciously by saying…
Come unto me…You are welcome here.
(author unknown)
From My Heart to Yours,

Learning to let go one more time
"It's my party and I'll cry if I want to
Cry if I want to, cry if I want to.
You would cry too if it happened to you."
(A popular song from the 60s by Lesley Gore)
You thought you were ready for this, but you never expected it to be so hard, or that you would cry so much.
You fought back the tears as you hugged tightly, secretly never wanting to let go, trying to be strong, even brave at this momentous moment. The words swelled up in your heart. There was so much you wanted to say,
"Don't forget to call or text me.
Get enough sleep.
Eat healthy.
Don't stay out too late.
Choose your friends wisely.
Remember to wash your clothes once a week.
And oh, please be careful-it's a crazy world out there."
But you didn't, at least right now you didn't. You've said it all a hundred times before this day.
You simply whispered, "I love you."
You were trying hard to act like a grown-up mom to this growing-up child, who was growing-up too fast, too soon. The voice in your head said, "Wasn't it just yesterday that I rocked you to sleep and held your hand as you took your first step? Now you are taking your first step into college." You hear this growing-up child that you cheered on in life, now trying to cheer you. "I'll be fine mom…don't worry…."
All the way home, you cry uncontrollably, mascara running down your face, snot pouring out your nose. This is not the time to hold back. Let it come. You reach for a sleeve, an arm, a Kleenex – anything to stop the dam that broke. You just left behind your baby – your firstborn, your middle child, or your youngest. It doesn't matter which one, it still hurts. It's cutting another umbilical cord, it's letting go of a part of who you are. It's facing an empty, clean room with the bed made, no shoes or clothes scattered everywhere, and posters still hanging on the wall. Oh, how you yearn to see that room messy just one more time to have glimpses of life there.
In case you are wondering, I was the "YOU" years ago when I experienced the emotional transition and unexpected adjustment of sending off our oldest, and then our youngest, to college. My head knew all the right things – we raised them for a time such as this. We gave them roots in family and in Christ and wings of confidence to soar and become all they could be. We knew it was time for them to become independent and begin to figure out life on their own. We knew one season of life had ended and another season was about to begin. That being said, it was not easy to emotionally let go or to stop crying for weeks as I grieved the loss of their daily presence in our family circle.
I couldn't seem to get a grip as I struggled with the emptiness that seemed to consume me. I particularly remember one time when I was laying face-down in our hammock, crying so hard my tears went through the hammock and on the patio. It was one of those messy-slobbery-ugly-cries. I missed tripping over the sports shoes that were always taken off at the bottom of our stairs after school. My refrigerator seemed empty. The house was too quiet. I missed the laughter, chatter, and even the music that had a good beat.
The sadness in my empty heart was eventually filled with happiness and peace as I began to see our growing-up children begin to thrive on their own. I had done my part as a mom, now it was time to leave them in God's hands and ask Him to protect, guide, and equip them in their new journey. I needed to move forward with faith and trust, knowing God would always be with them. You do have to come full circle with all of this and, at some point, realize that it's not all about you, it's about them. You are then taking your first step in letting go.
Remember these things:
You will always be their mama and they will always need you.
You did a good job raising them. Don't second guess that.
Say often to them, "I believe in you. You can do this."
Let them manage their own lives and figure it out.
They will make mistakes and they will learn from them. Don't short-circuit that.
Let them know, no matter what happens, you will be there for them.
Pray for them every day.
And, be assured they will come home again – with a suitcase full of dirty clothes, ready to eat a home-cooked meal!
I have dedicated him to the Lord; as long as he lives he is dedicated to the Lord.  I Samuel 1:28
From My Heart to Yours,

A friend was standing in my kitchen the other day, chatting away, when her eyes locked in on a picture hanging on the wall behind me. She walked past me and looked closely at the picture. "This is so lovely! I thought it was a painting at first glance." She paused, then said, "What is written beneath the picture?" I read the simple words out loud, "Daddy's backyard 1989. After she left, my thoughts slipped back into my daddy's backyard once again, and I lingered there a while in the sweetness of childhood memories.
Our backyard was truly Daddy's corner of the world. He planted jasmine that wrapped around the trees, hydrangeas in bright purple and blue, a rose bush in hues of red and pink, and a camellia bush in shades of pink and white. He left most of the backyard as nature designed it, and that natural green landscape framed the bright colored flowers near our house.
The view from our kitchen window was serene and peaceful. When I stepped outside the back door, Daddy was usually there working in the yard, either raking, mowing, trimming, or just sitting in his wooden, straight-back chair.
My favorite times in the backyard were when he was sitting in that uncomfortable looking chair. I would go outside, pull up a chair, or sit on the ground, and just be with him. I loved his stories, told with humor and wit, and I loved how he laughed at his corny jokes. He didn't talk much about serving in World War II and the Korean War. I could tell by his eyes that his emotions couldn't go there. Many times I sensed the backyard was his haven for far deeper reasons than my own. For me, it was my special one-on-one time to talk, ask questions, listen, and simply be with him.
When you are young, you don't always realize the hidden treasures you learn from the simple things in life. They become life lessons that can shape your thinking, your attitude, the way you treat others, and how you, in turn, raise your own children.
I looked back and realize how Daddy's backyard had hidden treasures of life lessons that continue to influence and impact my life today.
Hidden treasure #1: Be intentional.
I didn't know I was being intentional when I would go out in the yard to be with my daddy, but I'm sure, in his wisdom, he did. He knew when he sat down in his chair that I'd sit with him.
Intentionally spend one-on-one time with your children, or grandchildren, in their corner of the world. My eleven-year-old grandson loves to jump on the trampoline in his backyard. I climb up on the trampoline, sit across from him, and throw a big rubber ball back and forth to see who can keep it in the air the longest. It's my time to give him undivided attention away from his three siblings as we share "our" time together.
Hidden treasure #2: Look beyond yourself.
I was always in and out of our family kitchen, most of the time oblivious to looking out the window at the backyard. I was there looking for food. It was only when mama said, "Look at how green the yard is and how beautiful the flowers are," that I would look beyond my mission in the kitchen to take a peek outside.
Wherever you are, the simple gesture of looking at the beauty of God's creation around you and beyond you, can often help put life and circumstances in perspective. You don't have to travel the world to see the magnificence of God's creation; it can be right in your own backyard.
Hidden treasure #3: Balance busyness with rest.
Daddy wore a red bandana tied around his forehead to catch the sweat that came from his physical labor of mowing, weeding, and raking the leaves. He would work awhile, then rest awhile. Sometimes, he would lean against one of the oak trees to catch his breath, or to take a sip of water from a mason jar, or to "sit a spell," as he would say.
Are you on the go constantly with a full calendar and a busy life? Taking a break to "sit a spell" is not only a healthy balance, but can give you energy and stamina to finish well. It can also renew and refresh your mind and attitude. Try it. 
Hidden treasure #4: Learn by listening, share by talking.
I learned a lot about my daddy's life when I stopped talking long enough to listen. He was a quiet, soft spoken man, so asking questions was a win-win. He talked, I listened. He shared, I learned.
Over the years, I began to understand that in all relationships there is immeasurable value in the equal balance of both listening, and talking. If you do all the talking to those you love and don't take the time to listen, what have you learned about them? If they are not talkers, try asking non-threatening questions that say you care.
Hidden treasure #5: Seize the moment and the memories.
To this day, I can close my eyes and be in the backyard cutting hydrangeas when they are in full color to dry and preserve in a vase. In fact, I have a box of them in my garage and use them ever so gently. I can just smell the jasmine wrapped around the tree and see the brilliance of green shrubbery after a summer rain. I have lovely memories tucked in my heart and in pictures to span the years that have passed. I am all the more blessed that I seized the moment to walk out the kitchen door so many times – as a child, a teen, a young adult, and then a married woman – to talk and listen to my beloved daddy, whose memory vividly lives with me. One of the last things I remember was seeing him reading his Bible in that uncomfortable looking chair when he was "sitting a spell".
Don't miss the opportunity to discover hidden treasures in your own life, or in the lives of your family. Step out and seize the moment today. Make a memory that will last a lifetime.
I will confess. I am not very friendly on an airplane. Those travel hours are my down-time before I step off the plane to give my all to the women where I will be speaking.  It is when I switch hats, pray, calm my spirit, and focus my mind and heart.
A smile and a hello is about all you will get if you sit next to me. I'm not looking for a new friend or to start a conversation with anyone. "Please and thank you" for a cup of coffee and peanuts or pretzels is pretty much my verbal communication.
That is, until this tall, young, handsome, muscular African-American man, with arms built like a line-backer, walked down the aisle, stopped at my row, and said, "Excuse me, we have the middle seat."
He was carrying a little boy, who appeared to be about a year and a half old, along with a diaper bag on his shoulder and a backpack on his back.
Oh.my.goodness, I thought. Why next to me?
I had on the clothes I was going to wear that afternoon for speaking. I envisioned sticky fingers. There was no time to change when I arrived, so I was dressed and ready to go on stage. I was planning to go over my notes during the flight in the solitude of silence.
He quickly placed his backpack under the seat and crammed the diaper bag in next to it. There was no leg room left for him. He then quickly turned his little boy to face him, with his little legs around his daddy's waist. The child lay his head on his daddy's chest in total contentment and stared at me with a captivating smile. His daddy gently placed his arms around his son, to keep his little arms and hands from touching me or the man by the window. He maintained this posture during the entire flight. I could only imagine how uncomfortable it was for this man, while his son seemed delighted to have his daddy's complete attention and to be held so close. There was an obvious bond between them.
Once we were in the air, he pulled out the diaper bag, took out a bottle with apple juice, and gave it to his son. This huge, football-player-looking-man smiled and talked lovingly and quietly to his son as if it were just the two of them with no one else around. He then gave the little boy a pacifier and he slowly drifted off to sleep on his daddy's chest, with only the sound of his daddy's heartbeat in his ear. He gave him a cookie when he woke up and then wiped his little hands so they wouldn't accidentally touch me. They never did.
I was so entranced by how this man was so intentional in keeping his child occupied and contained with his arms circled around him. I could tell that he didn't want to disturb anyone on either side of them. That middle seat seemed to shrink even smaller with the two of them in it. He got up once to go to the "lounge" in the back of the plane and took the little boy to stretch his legs.
It was when he sat back down, that I turned to him and said, "I just have to tell you what an amazing dad I think you are and your son is so well behaved for his age."
"Thank you ma'am,"  he said. "He wasn't this good on our flight from Hawaii. He didn't sleep at all with the time change, and that five-hour flight was rough."
Then out of the blue, it hit me. "Are you military?"
It was then that my heart melted for this young man. He smiled and told me proudly that both he and his wife were in the Army, stationed in Hawaii. He had gotten orders to deploy and was on leave to visit his mother and family in Alabama before going to a remote part of the world. He was taking his son to see his grandmother for the first time. He said how anxious he was because this was his first deployment in a dangerous place. He never mentioned where, or what his mission was. I could only imagine.
I told him my name and he introduced himself and his little boy. As we began to talk, I shared that my dad, brother, and husband were military men. He told me about his family and how proud he was to serve his country in the Army. I shared God's words of encouragement and hope. I reached over my seat, touched his arm, called him by name, and said I would pray for his safety and protection in the months ahead.
I think of this young man quite often and pray for him. I remember his gentle strength and tender heart for his son, how his eyes lit up when he talked about his wife and his family in Alabama. I remember how Army Proud and Army Strong he was. By now he is far away in another land…
I shudder to think what I would have missed that day if he hadn't sat next to me.  I'm embarrassed to think how preoccupied I was with myself and my "outfit."
If God hadn't nudged me to say more than hello, I wouldn't know his story.
I wouldn't have shared God's hope and encouragement, which seemed to soothe his soul. And, I wouldn't have the privilege of praying for a dedicated and committed husband, father, and Army man.
Nudge me Lord. Use me where I'm needed. When I feel comfortable, make me feel uncomfortable. Take me out of my little world in an aisle seat and stretch my boundaries to the middle seat and beyond…
I watched my last three soccer games for the season last Saturday. Yes indeed, back-to-back games, carrying my folding chair from one field to another, I sat on the sidelines, waving my pom-poms madly to encourage all the players. My two grandsons and my granddaughter played their hearts out for their grand finale games. One win, one tie, one loss. To me, they were all winning games. It wasn't the score that impressed me, it was the team attitude, perseverance, and effort that made them all winners. They gave their all; they played their best.
It's always interesting to observe and listen to the parents around me during the games. One dad's words were so tender and kind to his young son, who was struggling as a goalie and felt defeated. His dad's words were just what he needed to instill confidence that he could block that ball—and he did, the next time the ball came at the goal. I know the dad's words could have as easily crushed the young boy. I've seen that happen too.
One single mom never missed a game, even though she had to rearrange her work schedule to be there. She always came right when the game started. I watched her daughter as she spotted her mother on the sidelines every week. She smiled as their eyes met.
Another dad was on his cell phone texting the entire game. I saw his son keep looking over at the sidelines to see if his dad was watching him. His dad missed his son's winning goal.
A mom sat down and pulled out a book that she read the entire time. Several couples were preoccupied in a conversation with each other.
They missed the moment to cheer a great move, to thumbs-up a winning pass, to soothe a fumble with encouragement, or show compassion with a defeat.
Just watching your children in a sport, a play, a recital—anything they're involved in– speaks volumes without a word said.
A kind, encouraging, or positive word speaks volumes too.
What I observed on the soccer field, I took home with me for the holidays.
There are times during Christmas that I'm too preoccupied with my own agenda, and my own busy schedule. I'm focused on checking off my gift list, my grocery list, getting my house decorated, getting gifts wrapped…and on and on, so that…
I forget to look up and notice someone who needs a kind word of encouragement.
I miss the sadness in someone's eyes because I wasn't watching.
I don't seize the moment to cheer on someone who feels defeated and needs to feel hope.
I get so self-absorbed that I'm oblivious to what's going on around me, or right in front of me.
Oh Lord, may I not just watch, but see.
May I not just hear, but listen.
May I not just observe, but speak.
___________________
My friends, may the love of Christ flow in you and through you to permeate others with a fragrance of kindness and encouragement this holiday season.
But thanks be to God..who manifests through us the sweet aroma of the knowledge of Him in every place. For we are a fragrance of Christ….  II Corinthians 2:14-15
Merry Christmas my friends!
Spread the joy of Jesus,
I am a list maker. I have lists on my phone, on post notes, and on scratch paper. I confess,  I will even list something I've done and draw a line through it just to visually see my accomplishments. I have a pretty notebook for special long-term lists–categorized by subject, of course. I am a very well-organized, well-functioning, obsessive list maker. A list clears my mind, prioritizes my day, keeps me on track, and most of all, helps me to remember what I would normally forget.
My usual list-making for Thanksgiving is a grocery list. I go through all my traditional Thanksgiving recipes and write down all the ingredients that I don't keep in my cabinet the other 364 days. Going through the family recipes for the holidays is a tradition in itself. It turns back the years of memories, not only in my kitchen, but also in my grandmother's and my mother's kitchen, as we assembled and prepared the ingredients, then cooked and baked for Thanksgiving Day. I have to tell you that I actually came across an old, handwritten list my mother had made for ingredients that had been tucked in some of her treasured recipes. One day, I'm sure my daughter will find one of my lists among the recipes too. And so it goes…
Around Thanksgiving, it seems the conversation starters, or question probers, are to make a list of things you are grateful for. It's a question that's asked around the Thanksgiving table, when friends gather together, in casual conversation, and on social media. Gratitude lists are shared and commented on in articles, blogs, and newsletters, and are discussed on talk shows, the national news, and commercials.
I love reading, or hearing the list of a grateful heart. You and I should have a long list every day, because God doesn't give us a short list of blessings. They are bountiful, they overflow with abundance. Even if you don't list them all on paper, extend the list to ponder in your heart. The spoken and unspoken gratitude list brings us to a place of being humbly aware of God's grace, mercy and blessings in our life.
Since I am such a visual person, my written gratitude list is going to look a little different this time. I'm going to share some pictures from my phone that have been taken over the past year of people, places, and things. They speak volumes for my grateful heart.
Happy Thanksgiving y'all! It's time to gather recipes and a grateful heart…
@SusanJustMoved
My heart is still beating with joy from speaking to the Schofield Barracks Army Post military wives at their PWOC Conference in Hawaii. We even had some women there who came from Hickam Air Force Base. The icing on the cake was meeting with the women who attend the Moving On group at the chapel.
After spending time with these incredible women, I had the privilege of seeing God's word bring hope, comfort, and encouragement to so many lives that have been uprooted by moving. We laughed and cried as we shared our joy and our pain together. We prayed for one another and joined hands in worship. We walked away feeling refreshed and renewed in our spirits as we focused on Christ and not our circumstances.
These precious women are in the trenches of military life, many of whom are holding their families together in the absence of their husbands who are deployed. They face the unknown with brave hearts and a strong faith. Many have just moved and are experiencing the adjustment and transition of being in unfamiliar surroundings and starting all over again. Then there are those who are facing the challenges of yet another move that has become an expected part of military life. They, too, face the unknown with a persevering heart and a strong faith.
My life is never the same after I am in the presence of military women. They touch my heart, strengthen my faith, and keep me humble. They are ordinary women who are called to do extraordinary things as wives and moms. When you stop and pray for the men and women who are serving our country in the Armed Forces, remember to pray for the spouses and families left behind. They, too, are my heroes!
Here are eight ways you can join our Just Moved Ministry Team in praying for our military:
Safety and protection for deployed spouses
Strong marriages during stressful circumstances
Healing of broken relationships
Provision for uprooted families
Encouragement for uprooted moms
Smooth transitions and adjustments for uprooted children
Comfort in the midst of the physical and emotional effects of a PCS (transfer)
Military families to put their trust and hope in Jesus Christ.
My presence will go with you….  Exodus  33:14
I remember going to an Elvis concert in Atlanta years ago. It was an experience I will never forget.
He looked quite spectacular in his tight, white silk bell bottom (now referred to as "boot cut") pants, with the collar turned up on his matching white silk shirt. Of course, fringe ran all the way down the outside of his pants and the sleeves of the shirt and shimmered as he moved. The outfit was complete with gold chains layered around his neck, a wide belt with a flashy buckle, and big sunglasses that I'm sure he needed in order to see his captivated fans more clearly. He wore his signature Elvis cape and held a silk scarf that he wiped his brow with before he threw it into the audience. We were sitting so close to the stage that I just knew he looked right at me, wiggled those hips in true Elvis fashion, and smiled. Oh me, oh my…how I did sigh!
When Elvis left the stage, the traditional last words spoken in a deep voice from behind the curtain, said, "Elvis has l-e-f-t the building," and then the lights went out. Sigh again…only the memory was left behind.
For years after that, anytime Bill and I went to a costume party, we always went as Elvis and Priscilla. Bill could not only imitate the Elvis mannerisms, but could sing in that same deep, charismatic voice. I, on the other hand, would be the swooning Priscilla, hanging on to every word in the song, and waiting for the scarf to be thrown to me. To add to our authenticity, friends had fun creating a real Elvis outfit from a resale store, polyester fabric for a cape and scarf, a black wig, oversized sunglasses, a huge macramé belt (formerly a wall hanging), and chains (that were used to hang plants) to wear around his neck. My black bell bottom pants and top, along with plastic jewelry, was also completed with a wig.
As the years went by, "Elvis" was packed away in a box, in our garage, with cherished memories of the fun and laughter Bill and I shared together.
Not long ago when cleaning out the garage, I came across the box marked, "Elvis". I went through our costumes and recalled every crazy, wonderful memory they held. It was time to pass along the box to another couple who loved costume parties and would carry on the Elvis and Priscilla tradition in grand style.
Why am I telling you this story from the pages of my life? For this very reason:  Don't miss the moment, my friends. Capture the memories of fun and laugher. Create traditions as a couple, or as a family. It's never too soon, and it's never too late, to make memories together. Start now.
One day, you'll be like me when you're going through an old box of memories. You'll look back over the years and smile, and be ever so grateful the memories are left behind.