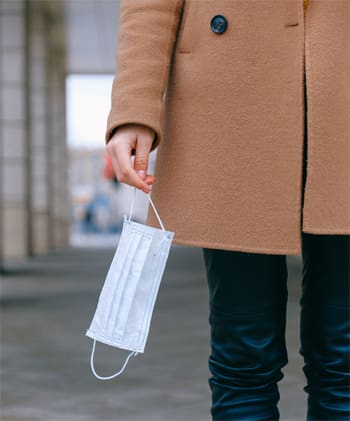 "Social distancing" is a new term in my world. Don't get too close, don't touch, and definitely don't hug. These are words that are quite the opposite behavior in my relationships with people I know and love.
This is a time in our nation, and in our world, that we could never have imagined living in a pandemic of this magnitude.
A time when words like isolation, quarantine, lockdown, and shelter in place are all too familiar and real. We have transitioned from busy schedules, full calendars and meals on the run, to an open schedule, an empty calendar, and eating every meal at home. We have transitioned from fearless to fearful, from constantly being on the go to a sudden stop, and from having what we need available and accessible to waiting and going without it.
The reality of the physical, emotional, and economic effects of the Coronavirus has hit our nation like a ton of bricks. The impact of the blow has been devastating to countless people and has become a crucial change point in our daily lives.
It occurred to me that most of us have experienced some kind of isolation or lockdown—physical, emotional, or economic—in our lifetime.
It could be a physical lockdown from an illness, a disease, or abuse that is debilitating—crippling your body, mind, and spirit. You are so helpless to do anything about it. Your physical condition dictates your day and you feel helpless. You can't run, you can't escape—you have no control over what's happening to you. You are powerless in the lockdown.
It could be an emotional lockdown from the pain of loss, a broken relationship, fear of the unknown, or shame brought on by circumstances. For those of you who have been there, you know what it's like. You shut yourself off from everything and everyone, and simply close down your feelings and emotions. You find safety in the lockdown.
It could be an economic lockdown from the loss of a job, bankruptcy, or an economic situation that is beyond your control. Your last paycheck is stretched to the max, you've tapped into your savings and it's almost gone. You don't know how you'll provide for your family, pay the bills, or even buy groceries. You are trapped in the lockdown.
And now, today—with this pandemic virus living among us—we are experiencing all three lockdowns: we feel powerless and helpless, we find safety in being isolated, and we feel trapped with our circumstances. So, you ask, what do you do when you're in this lockdown situation?
When I first realized the severity of this pandemic, I began to ask myself the hard questions:
What do I do now?
How do I stay calm?
How will I get through this?
What will happen next?
The answers surfaced from within very quickly.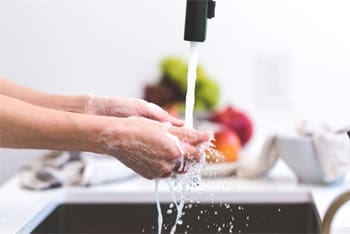 Practically speaking…
Just Do It!
We can do our part by taking the precautionary and pro-active guidelines seriously. It will take all of us to do this, not just a few of us.
Stay connected with one another.
Social interaction is key to help counteract depression, loneliness, and anxiety. I know we can't get together with family and friends, but we can hold hands and stick together through the internet, social media, Facetime, phone calls, texts and emails. Be creative with how you practice social distancing.
It's okay to not be okay.
There will be days you will feel like you just can't get it together emotionally. I have days I find myself weepy over the smallest thing I see or hear, or days when I want to do anything but what I have to do. Give yourself permission to have an emotional "off day." Just don't get in an ongoing slump. Take care of yourself. Connect with someone and share how you feel.
Celebrate small victories.
Perhaps you cleaned out your closet, deleted all the pictures you didn't want on your phone, organized your kitchen drawers, or caught up with filing a pile of papers. Yay you! I celebrate by taking a break and having a bowl of popcorn!
Do the next thing.
I get overwhelmed like you do sometimes. I step back from a long mental or written list, take a deep breath, and simply do the next thing that is a priority for today. What can be done tomorrow or next week? Don't try to do it all in one day if you are feeling overwhelmed, because then you'll get nothing done.
Stick to a routine as best you can.
I am intentional about exercising every day. I "walk and wave" or ride my bike. Part of my routine is to call and check in with different friends who are living alone.
Make your bed first thing each morning.
This small thing can start your day off with a feeling of accomplishment. (And, you won't be tempted to crawl back in the bed for the morning!)
No matter how helpless you might feel, let your common sense kick in.
Do the right thing even though it might be something you don't want to do! We have to make some hard choices—stay at home, don't stop by a friend's house for a visit, stretch the paycheck when you've been laid off, and saying "no" to things we've always said "yes" to.
Don't do or say anything you will regret later.
Remember, we are all feeling some kind of stress and our emotions are fragile. Many times in the heat of the moment I can do or say something that I regret later. Actions and words will be remembered. When you respond calmly—instead of with anger or frustration—you will be less likely to have regrets. God is on center stage, reflected in you and through you by your actions and your words.
Be wise. Don't foolishly put yourself in harm's way, but don't hesitate to cautiously help someone in need.
Oh my goodness, yes! When you go to the grocery store, pick up something a friend needs and drop it off at her front door. Start a group text with friends and gather their creative tips and suggestions for ways to reach out to others. To meet a big need, I'm going to donate blood to the Red Cross.
And, above all…
Go back to what you already know, what you've learned, and what you've been taught about our sovereign, almighty, unchanging God. And if you don't know Him, now is the time.
Run to God—You have nowhere to go, so run with all your might to Him. If you think about it, there is really nowhere you can go that is safer than in His presence. He alone is your refuge. Lean in to Him and dwell in Him. Depend on God to give you the strength to endure your circumstances. You might be looking for the answers in all the wrong places and God has been there right beside you all along, just waiting for you to come to Him.
God is our refuge and strength, a very present help in trouble. Psalm 46:1
Pray—Pray faithfully and without ceasing for the virus to pass. Pray for protection, inner peace, and a calm spirit. Pray for the leaders of our nation, our health care workers, first responders, those who have lost their jobs, and countless others who are on the front lines of this war against an invisible enemy every day. Pray that God will use you for His glory, and that you might be a light in a dark situation.
…pray without ceasing…1Thessalonians 5:17
The effective prayer of a righteous man can accomplish much. James 5:16
Renew your mind—In times such as this, recall God's word and rest in His promises. Repeat scriptures of God's hope, encouragement, faithfulness, comfort, and protection out loud. Saturate your mind and fill your heart with the remembrance of His word.
Do not be conformed to this world, but be transformed by the renewing of your mind…Romans 12:2
Trust God—Every day we face the unknown. Trust Him with your whole heart with the things you can't control in your life. If you feel afraid and lonely, be assured that God will be with you, His presence will surround you in all circumstances, regardless of what the outcome might be.
Trust in the Lord with all your heart; do not depend on your own understanding. Hebrews 3:5
Be grateful—No matter what, there is always something, or someone, to be grateful for. Recount your blessings. Focus on being grateful every day. It's hard to be negative when you are thanking God. When we all get through this, don't forget to thank God first before you do anything else.
It is good to give thanks to the Lord, and to sing praises to Thy name…Psalm 92:1
It's important to remember that a crisis has a beginning, a middle, and an end. We will get through a time such as this. There will be life after the Coronavirus. This too shall pass. We will stand together and wait together, united in faith, hope, and prayer, to face and fight this pandemic.
And while we are waiting, my friends, wait well and love well.
We will come out of this wiser, stronger, more resilient, kind, and caring. We will learn a lot about ourselves and a lot about others. We will learn we can live with less, rather than more. We will be reminded that family and friends are more important than all our possessions. We will be reminded how quickly circumstances can consume our focus and how easy it is to lose our focus on God. We will be reminded to cling to God and His word, to pray, to trust Him, and to be grateful.
But as for me, I will sing each morning about your power and mercy. For you have been my high tower of refuge, a place of safety in the day of my distress. Psalm 59:16 TLB
It's hard to wait, isn't it?
         Even when you have a strong faith.
                     Even when you trust God.
                                 Even when you know and believe God's promises.
It's just plain hard. I know, I've done my fair share of waiting over the years. I've waited on life or death situations,  for physical and emotional healing, for relationships to mend, for marriages to restore, and for suffering to end. I've grappled, reasoned, bargained, begged, and pleaded with God as I waited, hoped, and prayed.
You may be worn out and weary of waiting…
for something, or someone, to change,
for circumstances to get better,
for a solution to a family issue,
for the doctor's diagnosis,
for the next paycheck to come.
Or maybe you're simply waiting…
to fit in,
to make friends,
to feel at home,
to be included,
to be accepted,
to just be visable.
We don't understand why it takes so long for all the pieces of life to come together again, or the answers we want to come. Trust me, I know from experience the pieces of life will come together—in God's perfect timing, not ours. The answer will come—God's answer, although it may not always be the answer we want.
Above all else, trust our sovereign God. He is faithful in all things—always, forever, and no matter what. Even if you don't understand at the time or get what in the heck He's doing.
This much I do know. It's during the waiting – during the space between the now and then – that much is learned.  God's waiting room is not a bad place to be. When I am waiting, He takes me to a deeper level of trusting Him.  I hang out in His word and hang on to His promises.  He brings me to a point where I have to let go of all my expectations and wants and cling only to Him.
He teaches me a whole lot about patience, and about what I can control and what I can't. So many times in my impatience I try to run ahead of God to fix, change, manage, plan or orchestrate the results I want, rather than waiting on Him. I short-circuit what God is going to do by doing what I think is best. He is all-knowing and His ways are not my ways.
I've learned that at the end of myself and my striving, is the beginning of a deeper yearning for Him.
Only God can redeem the word wait.
I waited patiently for the Lord to help me,
and He turned to me and heard my cry.
He lifted me out of the pit of despair,
out of the mud and the mire.
He set my feet on solid ground
and steadied me as I walked along.
He has given me a new song to sing,
a hymn of praise to our God.
Many will see what He has done and be astounded.
They will put their trust in the Lord.   Psalm 40: 1-3
Are you presently in God's waiting room? Oh my goodness, don't just sit there! You'll end up in the pit of despair. Instead…
Wait actively. Get up, and get out. Take a walk, meet a friend for coffee, volunteer for something, get involved with God's people, go to the gym, join a Bible Study, plant flowers, work on a project, participate in an activity–whatever you can do to keep your mind, body, and emotions healthy.
Wait with your eyes focused on Jesus, not on your circumstances. It's so natural for your circumstances to be all-consuming and all you think about. Believe me, that's not going to change a thing. Try changing your focus to consume Jesus. Focus on His promises in scripture, listen to praise and worship music, read the Book of Psalms in the Bible (I love the New Living Translation), read a devotion to start your day, or listen to a Christ-centered message on a podcast. Focus on your blessings, not your hardships. Be grateful, not resentful. Focus on praying, not complaining.
Wait for the Lord;
Be strong, and let your heart
take courage;
Yes, wait for the Lord.  Psalm 27:14
Be encouraged as you wait. You are not alone.
There are many of us waiting right there with you… 
From My Heart to Yours,
Many of you followed me through pictures on Facebook as I traveled from Vicenza, Italy to Ansbach, Germany to Wiesbaden, Germany to speak to military wives. A picture speaks a thousand words. Take a good look…
These women, along with many of their husbands and children that I met, are etched in my heart. We shared Christ together, life together, prayed together, worshiped together, ate meals together, laughed and cried together. We made cherished memories, and took countless pictures. I taught them about our unchangeable God in their ever changing world. They taught me about rising above ever changing circumstances, in unchanging life situations.
I've been back home a while now…
and I still see their smiling faces.
I see their stress released through laughter.
I see their eyes, filled with tears they've learned to control, begin to spill over uncontrollably.
I hear them pray for each other, as they put a friend's needs above their own.
I feel their hugs and the reluctance to let go.
I'll never forget their testimonies of profound faith and trust in God in the midst of hard circumstances.
I'll never forget their gut-wrenching stories of situations they are much too young to experience.
Many of them face the stress of living on the edge of uncertainty and with fear of the unknown.
Yet, they also live with a resilient spirit of hope, perseverance, and optimism that defines the life that comes with being a military wife and mom.
These women are my heroes. They are the keepers of their home, committed wife to their soldier, and devoted mom to their children.
I hope you'll take a closer look at the women in the pictures. Choose one, (or two, or even all of them), and take a minute right now to stop and pray for the woman behind the picture, her soldier, and her children.
All those faces will suddenly become etched in your heart too…
A river runs through it. Ok, so not quite a river, but, after the rain we've had, the normally dry "wash" behind my house is a small stream. 
A "wash" is Arizona-speak for a very wide ditch that allows the rainwater to run through the middle of it and into a drain somewhere at the end of my street. With the monsoon rains we have in Phoenix, drainage is key to prevent flooding.
You can't see the wash from my backyard unless you peek over the six-foot wall and through the tall shrubbery that borders each side. Green grass fills the entire wash area, except during the hot summer months when it turns brown.
When the rain comes, it streams right through the grass. Sometimes the stream rises higher, depending on the rain. Then I might call it a creek. Never a river, or I'd be long gone.
After church last week, I was walking home, as I do every Sunday. Curious to see the water level and the flow of the stream, I stopped at the end of my street to take a look through the only place that gave me a full view of the wash. I stood there for a few minutes and watched the water ripple down a pathway through the grass, far beyond where my eyes could see. The stream quietly moved in and around and through the wash. The sun glistened on the tall, wet grass that seemed to bow in the direction the water flowed.
As I stood there, I was visually reminded of the living water of Jesus Christ that flows in and through our lives, reflecting God's light to anyone who stops to take a good look at us. In awe and praise, we bow down to Him and follow His direction as He guides our pathway through life. Just as water can quench the thirst of a dry land, God can quench the thirst of our soul far beyond what we can imagine. 
Pretty awesome, huh?
And…there's even the perfect scripture that flows right along with it…
But whoever drinks of the water that I shall give him shall never thirst;
but the water that I shall give him shall become in him a well of water springing up to eternal life.
John 4:14
And the Lord will continually guide you,
And satisfy your desire in scorched places.
And give strength to your bones;
And you will be like a watered garden,
And like a spring of water whose waters do not fail.
Isaiah 58:11
From My Heart to Yours,

@SusanJustMoved
I did some hiking recently in, what was to me, uncharted territory in northern Arizona.
It was quite an adventure since I am a novice when it comes to hiking. I love to walk, mind you, but hiking is quite different, so I learned. I do believe one of the hikes was several miles long. It was a totally isolated trail in the woods, leading to the top of a mountain.
My friend and I headed up the narrow trail, stopping occasionally to take a quick break, drink water, and marvel at how far we had come. I've learned over the years, it's always best to have someone walk beside me when I'm on any unfamiliar path, or trail in life.
And isn't that true – having someone come along side you when you are going through something you've never experienced before can make it a little easier. It's also helpful to have the support and share the experience together. Besides that, it's certainly better than talking to yourself.
There were a couple of times I just wanted to give up, turn around, and go back. I have also learned over the years, that when any journey I'm on seems steep, long, and difficult, I put one foot in front of the other and keep moving forward. It's never easy, but reaching my goal is worth it. In times like this, I remember the story of "The Little Engine That Could". I think I can, I think I can, said the little engine, as she pushed up the hill. I become that little engine pushing on up the hill.
About half way up, we met two people on their way down the trail. Well, let me tell you, it's always good to meet someone who's been where I'm going. If for no other reason than to know someone else has made it! I asked the first questions that came to my anxious mind as they passed by rather quickly. What's it like ahead? How much farther is it to the top? What's it like there? They calmed any fear I had of the unknown trail ahead. They told us how much farther we had to go and gave us insight into what we could expect.
It's kind of like anything we're going through in life, isn't it? There is comfort in knowing someone else has been there, done that. There's nothing like someone saying, it's going to be alright, here's what you can expect, I've been through this and you can make it.
Needless to say, we made it to the top of the mountain… and back down! The amazing views of the landscape below were breathtaking. The emerald green forest was rippled with wild flowers and distant lakes sparkled and swirled like ribbons. I wouldn't have missed it. It was worth every step, every anxious moment, every tired bone in my body.
The next time you face a challenge, or something unfamiliar ahead of you—don't do it alone, don't give up, and be on the lookout for someone who crosses your path, who's been where you're going. You will learn a lot along the way and discover you really do have the ability to reach your goal.
I'm not saying that I have this all together, that I have it made. But I am well on my way, reaching out for Christ, who has so wondrously reached out for me. Friends, don't get me wrong: By no means do I count myself an expert in all of this, but I've got my eye on the goal, where God is beckoning us onward—to Jesus. I'm off and running, and I'm not turning back. Philippians 3:12-14 The Message
Have you ever walked away from a perfect day that left a smile on your face and memories in your heart? I had a day like that at our Spring Luncheon and Auction to benefit Just Moved Ministry. Oh, you would have loved it too! Our theme was " Stepping Stones of Faithfulness," and 200 women enjoyed the ambiance of a beautiful place overlooking spring flowers and a lake, stunning decorations, connecting with friends, browsing (and buying) our amazing auction items, and a wonderful three-course lunch served in grand style. Over 30 volunteers, and our staff, worked months to plan, prepare, and create; and gave sacrificially their time and talent to make it a glorious day.