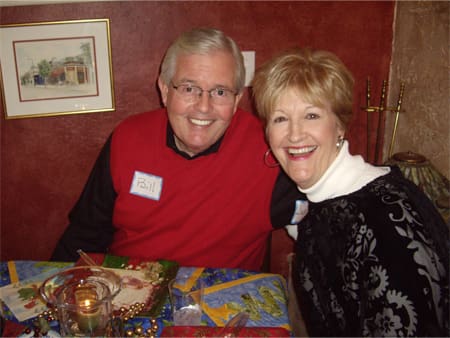 It happened years ago on a busy two-lane road that was a major thoroughfare from south to north Phoenix. My husband, Bill, was driving home from work in his small two-door pickup truck and had stopped at a red light. He looked in his rear view mirror and saw a car coming in the distance at a high speed. Bill thought the driver would see him stopped at the light and would start braking. What Bill didn't know was that the driver had just left school and was preoccupied with the loud rock music on his radio. The driver either didn't see the red light or didn't see Bill stopped at the light.
He didn't brake.
He rear-ended Bill's truck at such an impact that it flipped the truck over and into the oncoming lane of traffic, hitting a van that was also stopped at the light.
As the helicopter whirled overhead and the fire truck and ambulance arrived, Bill had to be pulled out through the shattered window of the truck. It was a miracle he survived such a traumatic accident and that no one was seriously injured. His body was embedded with shards of glass, which we continued to pick out of his skin and head for months. He had a concussion, his hand was broken, and he was badly bruised and battered from head to toe. The driver of the car that hit him was able to walk away unharmed from the accident.
When Bill was released from the hospital, he could not get in or out of bed or walk to the bathroom without my help. He was too incapacitated to go to work for several months. The physical trauma was hard, but the emotional trauma was harder. He had nightmares of the accident and was hesitant to even ride in a car, let alone drive one.
Spending days, weeks, and then months at home as Bill's caregiver, I found myself, along with Bill, getting discouraged. Every morning as I went in the bathroom to brush my teeth and splash cold water on my face, I would stand there in front of the mirror with tears of exhaustion in my eyes and whisper to God in prayer, "Let Bill begin to heal today."
I was reminded of the parable on prayer in Luke 18:1-8, where Jesus told his disciples a story to illustrate their need for constant prayer and to show them that they must never give up. The parable tells the story of the persistent widow who repeatedly made her request for help before a godless judge. I imagined her relentlessly getting in line every day until he responded. As each day went by I would take a small step forward as if I were in line, and whisper,
"It's me again Lord. Is it Bill's turn to begin healing yet?"
For us to persist in prayer and not give up does not mean an endless plea as the widow did in the parable. Constant prayer means keeping our requests continually before God as we live for Him day by day, believing He will answer. When we live by faith, we are not to give up and not to lose heart. God may delay answering or He may not give us the answer we pray for; but every prayer is heard and, in God's infinite wisdom, answered. As I persisted in prayer, it was another step forward in the growth of my faith, trust, and hope.
It took a long time, much longer than we wanted, for Bill's complete physical and emotional healing. In God's perfect timing, he grew stronger and we grew stronger together. What God taught us, especially me, during that waiting time, I could have learned no other way. At that time, I personalized Proverbs 3:5, "Lean not on your own understanding, Susan. Lean on Me, trust Me. Seek My will in everything, and I will direct Bill's path."
You might be going through a really difficult season of life, circumstances beyond your control, or a life-changing crisis. Perhaps you too need to "get in line every day," and persistently pray with faith and hope, trusting God every step of the way. Never give up, never lose heart!
There have been seasons in my life when I absolutely did not know what to do next. I let fear of the unknown and confusion of the moment consume my thoughts.
What about you? Have circumstances or a situation paralyzed your thinking, your discernment, your decisions, or your choices?
When your life is overwhelming, hopes and dreams are shattered, promises are broken, love is lost, and plans are forgotten—what will you do? When your journey is long, the road is rough, and you've made too many wrong turns along the way, where will you go?
Over the years, I've learned to take my direction from Psalm 37.
Trust in the Lord
Do you have a problem with trusting because your trust has been broken in the past? Listen up friends – you can believe what God says in the reality of His Word. He is totally and completely trustworthy. 
God is not a trust-breaker, He's a trust-builder.
You can trust Him with your whole heart. He will not let go of your hand during the good times or the bad times. He'll walk with you through the valleys and climb with you to the mountain top. He will not fail you or forget you. And believe me, I know this for a fact.
The emphasis to trust is repeated in verses 4 and 5. I get the message, don't you? Let's repeat over and over again, "I will trust in the Lord. I will trust in the Lord."
Trust in the Lord with all your heart; do not depend on your own understanding. Hebrews 3:5
Delight in the Lord
How do you delight in the Lord's presence when you don't feel it? I discovered delight in the Lord by intentionally getting to know Him on a deeper, more intimate level. As I began to understand and know God and grasp His unconditional love for me, delight and joy began to fill my heart.
People, possessions, and circumstances will bring you temporary joy, pleasure, and delight.
People will disappoint you, possessions will come and go, circumstances will change—only Jesus will satisfy the longing and emptiness in your heart.
Your words are what sustain me. They bring me great joy and are my heart's delight… Jeremiah 15:16
Commit your way to the Lord
To commit to the Lord means entrusting everything–our lives, families, jobs, possessions–to Him, knowing He will work out what is best for us.
Sometimes it's just hard for me to let go and commit everything to God. I want to commit everything to my way, with my plan, the way I think it should be.
But God's plan is so much better than mine and I trust Him more than I do myself. God guides me with His word, directs me with His promises, and leads me with His instructions. He's a lot better at caring for us than we are.
Into your hands I commit my spirit; redeem me, O Lord, the God of truth. Psalm 31:5
Rest in the Lord
Are you overwhelmed, weary, and worn-out? I can easily hit two out of three of those feelings on any given day.
On those days, I've learned to run to the arms of Jesus. He always provides the comfort and care that I need. Lean in to Him. Lean on Him.
Pull away from all that consumes you. Let your mind dwell on Him and in His word. Be still and quietly reflect on God's goodness and your gratitude. Rest and abide in Him.
To abide is to "live with" or to remain in one place with someone. Jesus is available anywhere, or anytime, to be with us. I'll meet you there with Him and we'll rest together.
Come to Me, all who are weary and heavy-laden, and I will give you rest. Matthew 11:28
*Wait on the Lord
Are you waiting on life to change, or an answer to come? It's hard, isn't it?
We don't always understand why we have to wait so long for all the pieces of life to come together again. It's during the waiting, during the space between now and then, that much is learned. When I am in God's waiting room, He teaches me about trust, patience, and prayer. I always tried to figure everything out myself, but I would only become anxious and worried.
While you are waiting, replace worry with worship. Listen to praise music and let it soothe your soul. Replace anxious thoughts with abiding. Take a deep breath and abide in God–trusting Him in all things–being patient for His timing and praying faithfully.
I waited patiently for the Lord, and He inclined to me and heard my cry. He brought me up out of the pit of destruction, out of the miry clay, and He set my feet upon a rock making my footsteps firm…. Psalm 40:1-3
When you don't know what to do next, consider this: You might be looking for the answers in all the wrong places and God has been there right beside you all along, just waiting for you to come to Him.
*Read more about waiting in the latest issue of Bloom from Just Moved Ministry.
It's hard to wait, isn't it?
         Even when you have a strong faith.
                     Even when you trust God.
                                 Even when you know and believe God's promises.
It's just plain hard. I know, I've done my fair share of waiting over the years. I've waited on life or death situations,  for physical and emotional healing, for relationships to mend, for marriages to restore, and for suffering to end. I've grappled, reasoned, bargained, begged, and pleaded with God as I waited, hoped, and prayed.
You may be worn out and weary of waiting…
for something, or someone, to change,
for circumstances to get better,
for a solution to a family issue,
for the doctor's diagnosis,
for the next paycheck to come.
Or maybe you're simply waiting…
to fit in,
to make friends,
to feel at home,
to be included,
to be accepted,
to just be visable.
We don't understand why it takes so long for all the pieces of life to come together again, or the answers we want to come. Trust me, I know from experience the pieces of life will come together—in God's perfect timing, not ours. The answer will come—God's answer, although it may not always be the answer we want.
Above all else, trust our sovereign God. He is faithful in all things—always, forever, and no matter what. Even if you don't understand at the time or get what in the heck He's doing.
This much I do know. It's during the waiting – during the space between the now and then – that much is learned.  God's waiting room is not a bad place to be. When I am waiting, He takes me to a deeper level of trusting Him.  I hang out in His word and hang on to His promises.  He brings me to a point where I have to let go of all my expectations and wants and cling only to Him.
He teaches me a whole lot about patience, and about what I can control and what I can't. So many times in my impatience I try to run ahead of God to fix, change, manage, plan or orchestrate the results I want, rather than waiting on Him. I short-circuit what God is going to do by doing what I think is best. He is all-knowing and His ways are not my ways.
I've learned that at the end of myself and my striving, is the beginning of a deeper yearning for Him.
Only God can redeem the word wait.
I waited patiently for the Lord to help me,
and He turned to me and heard my cry.
He lifted me out of the pit of despair,
out of the mud and the mire.
He set my feet on solid ground
and steadied me as I walked along.
He has given me a new song to sing,
a hymn of praise to our God.
Many will see what He has done and be astounded.
They will put their trust in the Lord.   Psalm 40: 1-3
Are you presently in God's waiting room? Oh my goodness, don't just sit there! You'll end up in the pit of despair. Instead…
Wait actively. Get up, and get out. Take a walk, meet a friend for coffee, volunteer for something, get involved with God's people, go to the gym, join a Bible Study, plant flowers, work on a project, participate in an activity–whatever you can do to keep your mind, body, and emotions healthy.
Wait with your eyes focused on Jesus, not on your circumstances. It's so natural for your circumstances to be all-consuming and all you think about. Believe me, that's not going to change a thing. Try changing your focus to consume Jesus. Focus on His promises in scripture, listen to praise and worship music, read the Book of Psalms in the Bible (I love the New Living Translation), read a devotion to start your day, or listen to a Christ-centered message on a podcast. Focus on your blessings, not your hardships. Be grateful, not resentful. Focus on praying, not complaining.
Wait for the Lord;
Be strong, and let your heart
take courage;
Yes, wait for the Lord.  Psalm 27:14
Be encouraged as you wait. You are not alone.
There are many of us waiting right there with you… 
From My Heart to Yours,