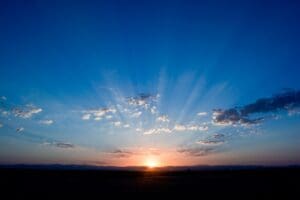 Every morning when I turn off the alarm clock, I glance over at a little pad of post-notes sitting on my bedside table that are imprinted with two words: "Stay Thoughtful." Every morning these two words start my day. They are a gentle reminder of what I should already know. "Stay thoughtful today, Susan, in what you say and in what you do." It doesn't say, Be Thoughtful, or Try to Be Thoughtful, or Remember to Be Thoughtful… it reminds me to stay thoughtful, not just over the holidays, but every day.
Then my mind began to think of other ways to stay:
Stay Kind
Stay Joyful
Stay Peaceful
Stay Compassionate
Stay Loving
Stay Content
The obvious became so clear to me, I can be these things when my focus stays on Jesus and stays on living out His love to others daily.
My mind is like a merry-go-round, whirling with things to do this time of year. A full calendar, a busy ministry, thinking about finding the right turkey on sale, finding my holiday recipes, making a list of ingredients, pulling fall decoration boxes from the garage . . . you are probably not far behind me. Our list can go on and on. Let's take a minute from this craziness before it consumes us. You and I both know there is so much more than the tasks and to-do lists over the holidays.
I know I need to stop and get off the merry-go-round I am riding. I need to refocus from doing to being, from rushing to staying. I need to stay focused on Jesus and I need to stay intentional about living out His love to others.
I think it's a good idea to start our day with this little prayer. I'll place it right next to those post-notes by my bed so I'll see it each morning when I start my day. What about you?
Oh Lord, with this holiday season approaching, and all the distractions that can so easily rob me of reflecting YOU, may I be ever mindful to . . .

Stay Thoughtful in the busyness of the season,

Stay Kind in my interaction with people,

Stay Joyful even when I don't feel joy,

Stay Peaceful in the midst of holiday chaos,

Stay Compassionate with those less fortunate than I am,

Stay Loving to those who are unlovable, and

Stay Content in my circumstances.
Have a grateful Thanksgiving, my friends, and happy cooking!
From My Heart to Yours,
I recently spent a weekend with a friend at her farm to enjoy cool weather, a change of scenery, and some down time before my busy fall schedule began.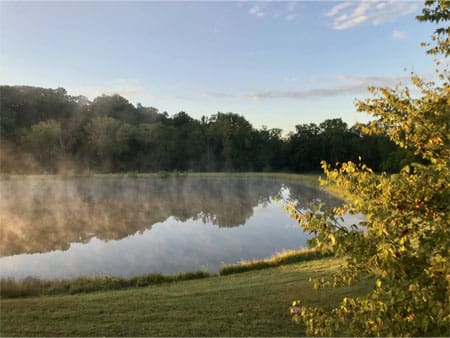 Her home was only accessible by miles of dirt road and was completely surrounded by acres of beautiful green farm land. An occasional creek would wind through the spacious land and ripple over all sizes and shapes of rocks. A quiet, still lake, as smooth as glass, was in full view from the back porch. Only an occasional fish jumping from the water broke the stillness of the water.
My friend took the opportunity to spend a morning with her family in a nearby small town, so I had this magical place of solitude all to myself. I gathered my pen and paper, a few devotional books, and nestled in on the inviting porch swing. My eyes were held captive as movement across the lake and near the woods revealed a fawn with a mama deer not far behind. For the next few hours I was isolated from the rest of the world.
I actually found myself uncomfortable with this new-found silence.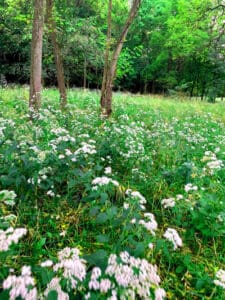 I kept getting up to go back in the house to get another cup of coffee, then to refill a glass of water. I walked around the porch that extended from one end of the house to the other, to look for any movement or signs of life in the vast landscape around me. A squirrel scampered by on the porch, as shocked to see me as I was to see him. I went for a long walk, crossed a creek, and soaked in the silence. A startled deer quickly ran across my path as our eyes briefly met.
Unlike back home, there was no sound of cars, no UPS or Amazon truck to stop at my door, no neighbors passing by as they chat and walked their dogs. No sound of sirens or traffic in the distance. No internet, no wifi, no TV, no ping of incoming texts or messages. Nothing but the whisper of wind in the trees, a bird chirping to his own tune, and a chorus of crickets in harmony.
Slowly I became comfortable with myself and with the quiet of my surroundings.
I headed back to the house and the porch – my newly discovered place of refuge and peace.
I returned to the porch swing and gently swayed back and forth for hours without feeling restless. I began to think through things, not just about them. I began to breathe deeper, relax, and drink in the quiet that filled my soul. I could hear myself think and pray without interruption or distraction. The words of scripture in my devotional penetrated my heart with clarity and new meaning. I had found a renewed and refreshed sense of myself.
The weekend slipped by much too quickly. Before I knew it, I was back in Phoenix. Life resumed its normal rhythm and the noise of my world didn't missed a beat. On especially busy days, when my world is spinning non-stop, I close my eyes for a minute and remember that gift of solitude and silence. I breathe in the memory as if I was there and, for a moment, my world stops spinning. Within that moment, I find comfort in silence once again.
The Lord is my shepherd, I lack nothing.

He makes me lie down in green pastures,

He leads me beside quiet waters,

He refreshes my soul.

He guides me along the right paths

for His name's sake.

Psalm 23:1-3
My friends, wherever you live, whatever your surroundings may be, make the time and take the time to find silent moments in your world.
Perhaps it's in the solitude of early morning or in the quiet of late night. It could be as simple as taking a long walk or going to a nearby park. It can be as easy as not turning on the TV, Spotify, the computer, or your phone. Let the only sound of distraction be the coffee maker dripping in your cup.
Be still and know that I am God.
Psalm 46:10
…in quietness and trust is your strength…
Isaiah 30:15
From My Heart to Yours
I love to read and re-read stories in both the Old and New Testament of the Bible. It is in those timeless stories that I learn immeasurable things about God – His unconditional love for us, His mercy and grace in our lives, His forgiveness, and how to be Jesus to others.
I don't know about you, but I need to be reminded of those things over and over again. Too many times the world's view crowds my mind and I can easily get distracted from the truth of God's word. I need to go back to the Bible often to read and re-read what I know and believe. His word is fresh and new every time and I am always learning more!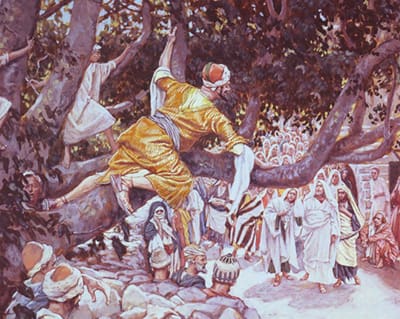 All that to say, I was preparing a devotional for a large gathering of women in my home last week and I had been re-reading the story of Zacchaeus in Luke 19:1-9. God never fails to teach me something new, or give me deeper insight or meaning from His stories. Let me give you a glimpse of Zacchaeus' encounter with Jesus and what I learned this time.
Jesus was passing through the town of Jericho on his way to Jerusalem and a crowd of people began to follow him. A rich tax collector, Zacchaeus, wanted to see Jesus too. Not only was Zacchaeus small in stature, he knew he was also despised and hated by the crowd as any tax collector was in those times. So he ran ahead of the crowd and climbed high up in the thick branches of a sycamore tree. The branches were covered with large leaves, so he could not be seen, but he could see Jesus. When Jesus came to the sycamore tree, He looked up, saw Zacchaeus, and called him by name. "Zacchaeus hurry and come down, for today I must stay at your house." He came down and took Jesus to his house in great excitement and joy.
Jesus offers unexpected love and acceptance, and that love becomes a life-changing force in Zacchaeus' life. Jesus' gift of grace to Zacchaeus prompts Zacchaeus to offer grace to others by giving money back to the poor. His inner change is revealed by his outward action and changed behavior.
WOW!! I am all over what God revealed to me in this story!! Read on….
First of all, you can't hide from God. No matter how hard you try, how far you run, or where you go, God knows exactly where you are. There is no secret he doesn't know and no past you can run from. He sees through the mask you hide behind to cover your pain, hurt, and brokenness.
Then, God sees you. Yes, wonderful, uniquely created, YOU. In the middle of a crowd, He singles you out. He's got His eye on YOU. He loves you, accepts you, and forgives you – always, forever, and no matter what.
And, God knows your name. Not only does God see you, He even calls you by name to be His own daughter. He calls you down from all the branches of busyness that cover you each day. He is calling you by name to say yes to Him!
But Wait, There's More!
Consider doing these things…
Be a "tree" in someone's life! Zacchaeus climbed a tree to be able to see Jesus. Allow others to be able to see Jesus in your life. Spread your branches of trust, faith, and hope for others to see Jesus in you daily and during tough times.
Climb higher than your circumstances for a clear view of Jesus. Zacchaeus also climbed high above the crowd to get a great view of Jesus. Sometimes you have to rise above your circumstances that might cloud your view of Jesus. It's so easy to lose your vision of Jesus when you are preoccupied with hard issues you're going through, or in the thick of your to-do list or busy schedule.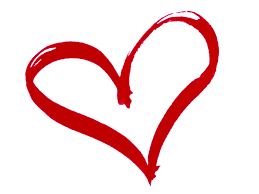 Go out and startle someone with the unconditional love of Jesus. Jesus "startled" Zacchaeus by seeing him hidden in the sycamore tree and calling his name. Be Jesus to someone and "startle" them by showing His love today. The best place to start is with your family!
I think you and I – and Zacchaeus – have learned a whole lot of life-changing stuff from his simple little story. Sure does entice me to want to read more. I'm hoping you do too….
From My Heart to Yours,
As you can imagine, I have faced numerous home and yard maintenance challenges over the years since Bill died. He was a great handyman fixer-upper. I learned a lot about the basic how-to's from Bill, and can still hear his voice explaining the way to fix things.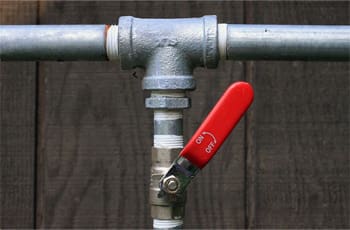 For the most part, I will either seek Google's input or YouTube's visual step-by-step instructions. I have even gone to Home Depot's workshop on how to fix sprinkler systems or, as I call it, "sprinkler school." If you need your sprinkler fixed, I'm your girl! Needless to say, persevering to learn how to fix, repair, replace, or install has given me a sense of empowerment in being able to take care of my home and yard.
But don't let all that fool you my friends. My "I can do it" mantra certainly has its limits. There are definitely repair issues that are beyond my capability to fix. I've certainly tried to patch a leak on the roof (silly me), change out the entire shower head components, and fix major plumbing leaks – among other crazy over-my-head things I won't mention! I have to remind myself often that at least I excel in growing beautiful geraniums!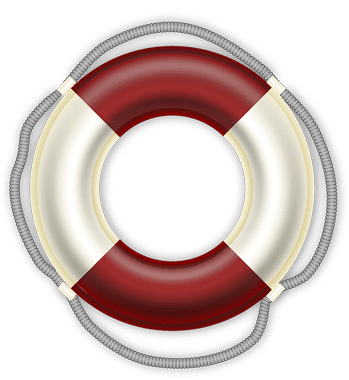 From the beginning of life without Bill, there have been men who remain friends and brother's-in-Christ to me. There are those who have never forgotten Bill's mentoring during their early years of marriage, his teaching that impacted their life as a husband and father, his friendship during a crisis in their lives, and husbands of our beloved couple friends. They are caring, attentive men who continue to honor Bill by checking in periodically with me over the years. Yes, I am blessed beyond measure and deeply grateful.
It has never been easy for me to ask for their help. Maybe that's just a southern thing, like trying to be a steel magnolia. Who knows.
I don't want to impose, inconvenience, or bother anyone. Everyone's life is so busy these days. No one needs one more thing to do on their plate.
Over time, my heart and attitude has begun to change. I kept hearing the same thing over and over again. "I know it's hard for you to accept my help, but don't deny me the privilege of helping you." I had been thinking about this all wrong. I was trying to be too self sufficient, they were trying to serve me.
I thought it would be an imposition, they thought it was a privilege.
Oh. my. goodness! I was denying God's provision to meet my needs. And my God will meet all your needs….Philippians 4:19
Perhaps you too are alone. Your husband might be deployed, or you might be single, divorced, or widowed. You might be young and able to tackle any challenge you face in life, or maybe you're older and struggle to overcome the challenges you face each day.
Don't hesitate to ask for help or accept help when it's offered. Don't be too stubborn, self-sufficient, or proud like I was. Most people want to feel needed, they want to help, and they want to serve.
And, you know what? You might even be that someone who will offer help and who wants to serve a friend in need … whatever that need might be. You just might be God's provision in someone else's life. Think about that.
From my heart to yours,
I was on a shoe mission, determined to find a pair of red flats.
I spotted them down the aisle and picked up my speed to get there quickly. I envisioned everyone else in the shoe store spotting them at the same time and racing to get them before me.
My heart skipped a beat when I stood in front of the red shoe display with no one else coming from either direction. "I'm safe," I thought. Mission accomplished.
My eyes glanced up and down the shoe boxes for my size. There was only one pair of size 8.5 left! Yay! I quickly opened the box, tried them on to make sure they fit, and admired them on my feet. Perfect! "Thank you Lord!" I whispered. (Yes, I even thank God for silly little things like red shoes that fit.)
The next day, I slipped on my jeans, a white shirt, some chunky jewelry, my red shoes, and I was ready to go to the office. My motto is, "Dress yourself, then forget yourself," and I was ready to do just that.
I took a step…then another step…then another. With each step, I heard a noise. Oh no! Could it be? Yes, it could, and it was ― my shoes were squeaking!
I knew I couldn't return them for another pair since there weren't any more in my size. I certainly didn't want a refund and be without the red shoes I loved. So, I decided to keep them and make the best of a squeaky situation. (I even asked on Facebook how to get rid of the squeak in shoes….)
If you ever have an unexpected squeak in your shoes, or in your life, don't lose heart my friends. Remember these things to help you take the next step:
A little color goes a long way to make your day. Whether it's red, orange, or purple, sometimes stepping out in boldness and adding a little color in your life, or shoes, is just what you need to brighten your day and lift your spirit. Go for it!
Overcome the squeak. Life, like shoes, can squeak, hurt, or even fall apart. Don't give up when the unexpected happens. Persevere to get past the issue. Rise above the obstacle. In the long run, it can be worth it.
Attitude can make the difference. Keep your focus on the positive, not the negative. My red shoes might squeak, but they sure are cute. I always laugh and say, "Well, you always know it's me coming when I wear these shoes!" It's amazing how a positive attitude can affect your day and the people around you.
Make the best of your situation. There are times when there is no turning back, no do-overs. The choice has been made and it may not have been the right one, but it was the best one at the time. You just have to make the best of the situation, learn from it, and move forward. I've done it, so can you.
Don't lose the joy. There will always be something or someone who will try to rob the joy or the enthusiasm you feel. Remind yourself that true joy is internal and comes from a deep inner relationship with Jesus. Nothing can rob you of that joy. It's the external things that bring you happiness—like cute red shoes. Shoes come and go—Jesus comes to stay. Don't confuse the two.
Just for fun, imagine the two of us on your next shopping trip. Looking for shoes? I'm your girl! I'll race to the shoe department and help you find just the right size and color. Then we'll have a cup of coffee afterward and share our "joy" in Jesus ― and in shoes!
From my heart,
Susan
Once again another new year is here. Funny how it rolls around every twelve months! For me, January is a time to re-exam my heart, my life, and ― my calendar. I take a look at the choices and decisions I've made and what I want to change or do differently this year.
When I get past all the stuff that is beyond my control, or is just wishful thinking, the really important things to me are the matters of my heart. I want to live my life to bring glory and honor to God, take more time for the cherished relationships in my life, and give my children and grandchildren a legacy of unconditional love, a strong faith in God, and treasured family memories. These are the things that really matter in my life. These are the things that I can intentionally choose to do that will make a difference in my life and in the lives of those I love. Not just in the new year, but for years to come.
God knows our hearts. He knows the good, the bad, and the ugly us. He knows when we get it right and when we screw up big time. And believe me, I'm the first in line to say I didn't always do it right or say it right. My choices and decisions weren't always wise and my calendar was often too full with no boundaries or margins.
Ah, but for His saving grace and forgiveness! A new year, a clean slate, and another chance at putting the often misfit pieces of my life together again.
May we never lose sight of God's power to change us—our life-style, our thinking, our habits, our actions, our attitudes, and our words.
Here are a few things nudging my heart for 2019:
Stop limiting God. Oh.my.gosh. How many times I've kept God in a box by putting limits on what He can do! He is the God of the universe and nothing is too small for Him to accomplish. How easily I forget and how it limits my faith and trust.
Give my day, and whatever it might hold, to God before I get out of bed each morning. Thank Him, regardless of what kind of day it was, each night when I go to bed. Not all days are great, happy, or filled with sunshine. But wow, I learn a lot about myself ― and Go ― in the unexpected, not-according-to-my-plans kind of day.
Remember that kindness trumps everything else. May I never forget to make time to be kind by my actions and words, even when I'm busy and my schedule is full.
Release guilt of all I haven't done and focus on what I have done. I am so bad about this! I need to remember the things I haven't done will all be there tomorrow.
Write more handwritten thank you notes and fewer text thank-yous. I know texting is quick and easy, but I also know what it means to get a handwritten note. I keep treasured written notes and re-read them on a rainy day.
A full calendar is not always productive. At the end of the week, or month, I can look back and know the days (and nights) that were full , were more exhausting than productive.
Be less judgmental. I meet so many new people that I sometimes find myself assuming something about someone, or her circumstances, that may not necessarily be correct. A good reminder is for me to ask first, " Tell me about you," or "Tell me your story."
Procrastination doesn't always get the things on my to-do list done. Grrrrrrr….. It's always easier to do the things I want, or love to do, and put off the things that are difficult or stressful to do. I need to work on this big time!
Never underestimate the power of prayer. I am reluctant to say that sometimes I do just that― I underestimate my prayers! I need to pray with reckless abandonment and not hesitate to pray for what I think is too hard or impossible.
Re-do my bucket list. Stop putting the things I want to do, and can do, on the back burner. With each passing year, time is so precious. There are dear family and friends that I want to visit, places I want to see, things I want to do. If not this year, when?
Tell it, sing it, and live it! I resonate with the words to this old hymn, "This is my story, this is my song, praising my Savior all the day long…."
Have you had any nudges from God lately? If so, this might be a good time to think about the matters of your heart, the choices you make, and what you want to change or do differently in the new year.
I'd love for you to stop right now and join me in praying this little prayer from my heart to yours:
First of all, God, I want to thank you for last year. It was a difficult year in many ways, but you never left me. Your word gave me peace.
Your provision gave me hope.
Your presence gave me comfort.
I am in awe of how you work in and through all things.
Now, as I enter into the new year, I pray for wisdom and discernment in the choices and decisions I will make.
Direct my steps and walk with me each day so that my life will reflect you.
Transform not only my heart, but my thinking.
Give me courage to do the right thing, not just the easy thing.
And above all, may I give you all the honor and glory for the mighty work you will do within me this year!
Amen
I've even added some scripture that will help guide us. You can add some of your favorites too.
Trust in the Lord with all your heart,
And do not lean on your own understanding,
In all your ways acknowledge Him,
And He will make your paths straight.
Proverbs 3:5,6
And may the Lord direct your heart into the love of God and into the steadfastness of Christ.
2 Thessalonians 3:5
Commit your works to the Lord,
And your plans will be established.
Proverbs 16:3
I will instruct you and teach you in the way you should go; I will counsel you and watch over you.
Psalm 32:8
Your word is a lamp to my feet and a light for my path.
Psalm 119:105
From My Heart to Yours,
Six ways to insert a fresh start
With my inability to slow down time, each new year continues to emerge much too quickly in my life. My usual new year routine is to transfer annual dates and information from my old 8.5 x 11 month-at-a-glance calendar to my new, empty calendar – this year with a flower print cover. Yes, I have a phone calendar for a quick overview of my schedule, but it takes me too much time to fill in many needed details. I'm just an old-fashioned girl that loves a paper calendar with a big space to write important stuff each day. I write almost everything in pencil, 'cause change happens. If I have a speaking commitment, it is written in red. That helps me monitor my time for preparation and travel.
My goal is to control my calendar, not have my calendar control me.
I have made a practice each year to glance back over the pages of my life from the previous year. There are things that have become just a faded memory, some momentous occasions that are forever remembered with a smile, and then there are always things I want to intentionally rethink and do differently the next year. Let's just say I don't want to copy and paste the same habits, patterns of thinking, or attitudes into a new year. I review my actions and my heart, then make every effort to cut the old way of doing and thinking, and reformat to bring about the changes that need to be made. I'm not saying I always get it right, or do it right, but at least I try.
This is where I want to get up close and personal with you. Perhaps, since I may have had a few more calendar years than you, I can pass along some of the things I've learned along the way. At least it might encourage you to review last year and think about what you might want to do differently this year.
There isn't anything that you and God can't do together. I will often repeat that sentence to myself, sometimes out loud, for the confidence and assurance I need when facing a difficult task. No question about it. Like you, there are times I feel overwhelmed with the craziness and demands of a full and busy life. Sometimes my "difficult" task is just to get through the week! I've spent many hours stressing over a situation only to be reminded that God didn't call me to ministry and then leave me on my own to figure out things I don't have a clue about. You may be a new mom and don't know where to begin with taking care of a baby. Perhaps you've started a new job with a huge learning curve ahead. You might even be facing a life change that seems insurmountable and you're not sure you can handle it. God is with you in the trenches of life. You are not alone.
Change is a choice you make. This is where the rubber meets the road, girlfriends. Only God can change you. Only you can change the choices you make. So, got some habits left over from last year that you know in your spirit don't reflect Christ? Does your attitude stink 'cause you found yourself in a rut in 2017? Do you find yourself thinking more negatively than positively about life because of circumstances beyond your control? You might even have said, "I'm so glad 2017 is over." Well, it is. So now what? You may not have the choice to change your situation, but you can make the choice to change your focus from your circumstances to a focus on Christ. You can choose to change old habits, how you think, and your attitude, because remember, "There isn't anything that you and God can't do together." Is it easy? Heck no! I struggle daily. Sometimes I take two steps forward, then one step back. But, if I keep my eyes on God instead of me, He changes me, and that will change and influence the choices I make.

Learn from your mistakes. Start Fresh. You can't keep doing the same thing over and over and expect different results. I made a lot of mistakes last year. Over and over again I scheduled too much in a day or a week. I focused more on checking off my list of to-do's and less on people I love. Many times I was too busy to remember to sit at the feet of Jesus. I am choosing to start fresh this year and learn not only from my mistakes, but from the consequences of my choices. You might want to get real with yourself too and recognize some of the mistakes you made last year that you don't want to repeat. I want to remind you that God gives us a clean slate of forgiveness each day. Not only can we learn from our mistakes, but more importantly, we are forgiven for our mistakes. We are free to start over with a new beginning and a fresh start in the new year.
Be intentional. Persevere with purpose. I choose a word each year that I need to work on in my life. For the last two years it has been intentionality. This year it is trust. I practiced being more intentional about staying healthy, exercising, spending one-on-one time with my grandchildren, and developing a deeper prayer life. This year I want to trust God all the more. I want to intentionally let go of what I cannot control and trust God completely to handle all things. It's interesting how trusting God is something we know to do, yet fall back into trying to help, solve, or fix that which we cannot. What would your word be for this year? Think of some specific ways you want to be more intentional.
Prioritize. If your first priority isn't spending time with God – praying, reading scripture, and listening to what He's been trying to tell you – then nothing else really matters that day. I've tried it all: squeezing in God between appointments, working Him in at the last minute, and, quite honestly, sometimes just too busy to take time for, and with, Him during the day. Maybe you've been there too. Priorities screwed up, too exhausted to even figure out what, or who, is really most important. I've learned over the years that nothing, no nothing, trumps God. Your day will fall into place when you place Him first.

Less is more. Having a full calendar isn't a sign of being fulfilled. I used to think it was. I thought that when each day was filled, I would be happy and fulfilled. Not so. It took years for me to unlearn that belief. As an old commercial once said, "You've come a long way, baby," and indeed I have. Having some unscheduled days on my calendar to spend some quiet, restful time – whatever that might look like – fills my heart and soul.
I challenge you to not copy and paste all your activities from last year to this year. Think less, not more. Less stuff, more of Jesus. Less busyness, more time to become all that God created you to be. It just doesn't get much better than that.
You are braver than you believe, stronger than you seem, smarter than you think, and loved more than you know. (A.A. Milne – Winnie-the-Pooh)
Do not call to mind the former things,
Or ponder things of the past.
Behold, I will do something new.
Now it will spring forth;
Will you not be aware of it?
I will even make a roadway in the wilderness.
Rivers in the desert.
Isaiah 43:18-19
From my heart,

It's hard to wait, isn't it?
         Even when you have a strong faith.
                     Even when you trust God.
                                 Even when you know and believe God's promises.
It's just plain hard. I know, I've done my fair share of waiting over the years. I've waited on life or death situations,  for physical and emotional healing, for relationships to mend, for marriages to restore, and for suffering to end. I've grappled, reasoned, bargained, begged, and pleaded with God as I waited, hoped, and prayed.
You may be worn out and weary of waiting…
for something, or someone, to change,
for circumstances to get better,
for a solution to a family issue,
for the doctor's diagnosis,
for the next paycheck to come.
Or maybe you're simply waiting…
to fit in,
to make friends,
to feel at home,
to be included,
to be accepted,
to just be visable.
We don't understand why it takes so long for all the pieces of life to come together again, or the answers we want to come. Trust me, I know from experience the pieces of life will come together—in God's perfect timing, not ours. The answer will come—God's answer, although it may not always be the answer we want.
Above all else, trust our sovereign God. He is faithful in all things—always, forever, and no matter what. Even if you don't understand at the time or get what in the heck He's doing.
This much I do know. It's during the waiting – during the space between the now and then – that much is learned.  God's waiting room is not a bad place to be. When I am waiting, He takes me to a deeper level of trusting Him.  I hang out in His word and hang on to His promises.  He brings me to a point where I have to let go of all my expectations and wants and cling only to Him.
He teaches me a whole lot about patience, and about what I can control and what I can't. So many times in my impatience I try to run ahead of God to fix, change, manage, plan or orchestrate the results I want, rather than waiting on Him. I short-circuit what God is going to do by doing what I think is best. He is all-knowing and His ways are not my ways.
I've learned that at the end of myself and my striving, is the beginning of a deeper yearning for Him.
Only God can redeem the word wait.
I waited patiently for the Lord to help me,
and He turned to me and heard my cry.
He lifted me out of the pit of despair,
out of the mud and the mire.
He set my feet on solid ground
and steadied me as I walked along.
He has given me a new song to sing,
a hymn of praise to our God.
Many will see what He has done and be astounded.
They will put their trust in the Lord.   Psalm 40: 1-3
Are you presently in God's waiting room? Oh my goodness, don't just sit there! You'll end up in the pit of despair. Instead…
Wait actively. Get up, and get out. Take a walk, meet a friend for coffee, volunteer for something, get involved with God's people, go to the gym, join a Bible Study, plant flowers, work on a project, participate in an activity–whatever you can do to keep your mind, body, and emotions healthy.
Wait with your eyes focused on Jesus, not on your circumstances. It's so natural for your circumstances to be all-consuming and all you think about. Believe me, that's not going to change a thing. Try changing your focus to consume Jesus. Focus on His promises in scripture, listen to praise and worship music, read the Book of Psalms in the Bible (I love the New Living Translation), read a devotion to start your day, or listen to a Christ-centered message on a podcast. Focus on your blessings, not your hardships. Be grateful, not resentful. Focus on praying, not complaining.
Wait for the Lord;
Be strong, and let your heart
take courage;
Yes, wait for the Lord.  Psalm 27:14
Be encouraged as you wait. You are not alone.
There are many of us waiting right there with you… 
From My Heart to Yours,
When I was growing up, mama used to always say,
"It's right under your nose, Susan!"
In our family that always meant that what you are looking for, or what you need to do or say, is so obvious.
The other day I had a "right under my nose" moment. I needed help with moving furniture and painting my guest bedroom. I went through a list of handymen and came to the conclusion I couldn't afford hiring someone. Then I thought of a friend I hadn't seen in a while who loved to paint and re-arrange furniture. It was so obvious to ask her, that I almost found myself saying, "Duh!"
I called her and she was delighted to help. I reaped the reward of enjoying the company of an old friend as we worked side by side for the morning, redecorating my guest bedroom.
So, what are some of the things that could be "right under your nose" as you begin a new year?
Maybe it's an old habit you want to change or a new habit you want to start.
Or as simple as an attitude adjustment about someone or something.
This could be the year to let go of anything that has you stuck in the past and begin to move forward with your life.
You might need to write a note to someone encouraging her through a difficult time, or write an overdue letter asking for forgiveness.
It could be something you've always wanted to take the time to do, a dream you want to make a reality, a promise you want to keep, or a phone call you need to make.
Perhaps you've been looking in all the wrong places and making all the wrong choices this past year—
to fill a need,
to avoid the obvious,
to cloud your judgment,
to distract you from what's important,
to keep you from doing the right thing…
when the answer has been right under your nose the whole time.
From My Heart to Yours,

About three months ago, I received an email from a young girl I don't know who lives somewhere in my neighborhood. The subject line read: Lost Cat.
I could tell by all the email addresses listed that she had sent it to everyone in our Homeowners Association. It was a simple plea for help to all the neighbors.
Chloe, her beloved eleven year old, long haired gray cat was lost. The email said she was a very timid, indoor cat. She somehow got outside and couldn't be found anywhere. We were asked to please keep an eye out for Chloe in the neighborhood.
I sensed this young girl's panic and worry over Chloe's welfare and safety. I know how the mind imagines all kinds of scenarios when a pet is missing.
I immediately answered the email and said I would be on the lookout for Chloe, and that I would pray that she would be safely found soon. In the days, weeks, and months that followed, I often thought of this little girl giving up and losing hope of ever finding her beloved cat. Each time I thought of the young girl, I said a little prayer that God would comfort her in her loss. As time went by, I knew the chances of Chloe being found became less and less.
Then, last week I received another email that said, "I wanted to let you all know Chloe was found!!!" She went on to say that Chloe was found barely alive on a golf course miles away. With the contact information on her collar, Chloe's family was notified, and she was rushed to the veterinarian. She is recovering from heat stroke and dehydration, and may need a blood transfusion, but they are so grateful she is home after being lost for two months.
I couldn't help but smile and say out loud at the same time, " Thank you Lord," when I read the email. These words quickly came to mind, "Never give up, never lose hope."
It was a reminder to me of the times when I have given up on something or someone, or I lost hope that circumstances would change or that people would change. There were times in my darkest hours when I was ready to give up ever finding joy again and felt hope slip away with the reality of death and loss.
Yet, just when I was ready to give up, the God in me said, "Never give up." Just when I was ready to lose hope, the God in me said, "Never lose hope."
His words in scripture would echo in my mind, "I will never leave you… I will be with you…Do not be afraid…I am your refuge and strength…I am your hope…Peace I leave with you…I am the God of all comfort…."
You might feel lost and alone, ready to give up on something or someone—even yourself. You might be on the brink of losing all hope that your circumstances will ever change or the people you love will ever change.
Perhaps you feel like nobody will ever find you and rescue you from the pit of despair.
Read aloud these words from the classic hymn, "Amazing Grace," written by John Newton in 1779.
Amazing grace! How sweet the sound
That saved a wretch like me!
I once was lost, but now am found;
Was blind, but now I see.
Through many dangers, toils and snares,
I have already come;
'Tis grace hath brought me safe thus far,
And grace will lead me home.
Never give up. Never lose hope. Run to God right now. Pour out your heart to Him. Let the tears come.
You were lost, but now you're found. Let His amazing grace lead you home to Him.