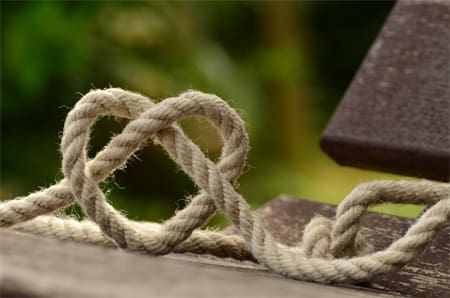 Eleven years ago, I was there – at the end of my rope. Holding on by threads, I knew if I let go I would plunge into a bottomless pit of despair. When cancer strikes, and death comes, and your life is changed forever, you are numb from the pain of loss. Any strength you've had is gone, drained from your body and your emotions by the exhaustion of grief.
I would find myself smiling one minute, like everything was normal, and slipping into unbelief the next minute – all while trying to maintain my sanity in a world that didn't seem to skip a beat to its own rhythm. I grappled with God. "Why?" I pleaded. "Let me wake up from this nightmare."
Perhaps you have also experienced death and grief, along with pain and suffering. Your death could have been the end of a marriage or a relationship. Your loss could have been a job or a home. Your pain and suffering could have been a crippling disease or a debilitating illness. Maybe you are even going through something now. You find yourself at the end of your rope – holding on each day with all your strength, grappling with God, and pleading to wake up from your nightmare.
Over time, I began to release my anguish and began to rest in God.
I prayed for God to breathe life in me so I could at least try to function on a somewhat fractured level of normalcy. I trusted Him to get me through each day . . . one day at a time.
And, He did, and He can for you too.
Day by day, He immersed me in His mercy and grace, showering me with His great love and kindness. His comfort and compassion soothed my aching heart as I began to cling to His word hour by hour. Sometimes that's all I did in a day: hold my Bible and read out loud to myself. I felt God's faithfulness as I'd never felt before. I discovered an intimacy with Him that can only come through unbearable grief or unimaginable loss.
Each day His strength became my strength, and slowly, sorrow and joy became one. I have known great sorrow, but I have also known great joy because of Jesus.
I still miss Bill like crazy and think of him every day. With each passing year, I have, and will continue to get through this life-changing loss as I move forward with my focus on Christ.
Today, eleven years later, I find myself holding on to the end of that rope again. My mind seems consumed daily with the stress of a COVID spike, the national situation, and the Arizona fires – all of which seems to press in around us and then slowly becomes a part of us. Fear of the unknown, anxious about when it will all end, concern for family and friends . . . it can seep through our daily lives like water seeps through a sponge when it can hold no more.
But our ropes my friends, are not just ordinary ropes.
They are a visual reminder that the strands of our life are woven tightly with God's faithfulness, His word, His promises, His hope, His strength – and our prayers, our trust, and our perseverance. Even when we feel like we are at the end of our rope, it is strong enough to hold us. You see, God will never let us go, our part is to never let go of Him.
And after you have suffered for a little while, the God of all grace, who called you to His eternal glory in Christ, will Himself perfect, confirm, strengthen and establish you. I Peter 5:10
From My Heart to Yours,
I know the time was right, but that doesn't make it any easier. It's never easy to let go of something that has become a part of your life and your memories for thirteen years.
When the "For Sale" sign went up in June, it became a reality that this would be the last summer at our little getaway place near Flagstaff, Arizona ― only an hour and a half from Phoenix. I knew selling would become inevitable as the years went by. The grandchildren were growing older, the small rooms that once were adequate seemed to be getting smaller, college was looming in the future, and their interests had broadened beyond our small community there.
When the "sold" sign went up soon after that, I walked from room to room, my eyes covering every inch of space within each room's four walls, as my mind recalled the memories held there.
Our Happy Place
I could smell the cookies and brownies in the kitchen as they baked in the oven, with only the aroma left behind as they quickly disappeared off the platter. I could see all the smiling faces when they sat around the kitchen bar, knowing I had their full attention as they gathered to eat anything that wasn't nailed down. It wasn't about the food for me, it was the priceless interaction of conversation that I loved. I looked beyond the kitchen to the living area and saw every seat filled with six grandchildren, then spilling over on the floor with their friends. They always got such a kick out of me being able to flip a bottle of water right side up on the counter, teaching me to dance to their music, and singing popular songs along with them.
I could hear the laughter and giggles in the loft filled with bunk beds and sleeping bags long after "lights out!" echoed up the stairs. The empty stairs were once filled with flip-flops and sports shoes in hopes someone would claim them.  As I walked by the bathroom, I could hear the knocks on the door with a loud voice, "Hurry up, you're taking too long, it's my turn!"
Walking out on the deck, I took a deep breath of the cool, fresh air and smiled as I remembered the summer the deck became "Nana's Nail Salon" for my granddaughters and their friends. "By appointment only," I said. They waited patiently as I painted nails and toes of each girl. I could hear my grandsons and their friends playing board games on our deck, and soccer, dodge ball, and kickball in our large neighbor-shared backyard, where the balls always seemed to end up on our deck.
I sat down for a moment, and stared at the beauty of the flowers I planted each year. I gazed at the blue sky and green grass ― a different landscape from Phoenix in the summer.
I thought back over the thirteen years of memories, first with Bill, who loved coming here before he died. It was our place to rest, renew, and regroup. I called it our "Happy Place." It was where I grieved in the solitude of long walks and where God soothed my broken heart as He began to put the pieces of my life back together again.
Then there is the legacy of memories for our grandchildren, who spent every summer there for thirteen years, and will, I'm sure, share crazy stories about "Cousin Camp" around the table when they are grown. Priceless memories were shared together with our beloved and long-time friends from Phoenix, who said many years ago, "There's a place next door to us going up for sale, you might be interested…."  There were also other dear friends close by from Phoenix, and neighbors I looked forward to seeing each summer who became a part of our little community of friends.
Our "Happy Place" was perfect for our Just Moved Ministry Staff and Board Retreats, where the most faithful, committed, and amazing women gathered for R&R, and to cast a vision, to plan, and to prepare for the year ahead. Not to mention, the great food, fun, laughter, and fellowship we shared! And, sometimes I would invite a friend for a weekend who simply needed encouragement and a little TLC.
A New Season
As I drove away this summer, I took one last glance at our "Happy Place" and my red geraniums left on the steps for the new owners. I was reminded of Ecclesiastes 3:1, There is a time for everything, a season for every activity under the heaven. This is a new season in my life now and I choose to embrace it wholeheartedly.
You can do the same thing if you have had to let go of a place you loved. It's not always easy when the place you left behind is intricately woven in your life,your heart, and your memories.  Perhaps you've experienced a move, or a military PCS. It could be downsizing, retirement, or other circumstances that have uprooted you beyond your control.
Cherish, Don't Cling, to the Memories
Anytime during a hard or lonely day, you and I are blessed to have a storehouse of memories that reflect the place we loved and the special times spent with family and friends. Cherish your memories, don't cling to them. Don't let living in the past keep you from all God has planned for you in the future. We can acknowledge that moving is not the end, but the beginning of making new memories and new friends. We can choose to embrace a new place and all the opportunities to see God's goodness and faithfulness.
Remember, God wastes nothing, not even having to move and leave behind what you hold most dear. This is a new season in your life too. Join me, and choose to embrace it today.
From my heart,
One simple, five letter word: ALONE. It can consume you at any time – day or night – and it can create havoc with your emotions. It can cause you to lose perspective, sometimes even hope.
You can feel alone when…
You're hurting physically or emotionally,
You're facing hard times,
you've experienced a life-changing loss,
or devastating circumstances.
You can feel alone when…
your body begins to fail you,
your thinking becomes distorted,
you have to make a major decision,
your life seems overwhelming.
You can feel alone when…
you have everything money can buy,
you don't have any friends,
your marriage is falling apart,
you have no one to turn to for help.
You can feel alone when…
you're surrounded by people,
you have no one to talk to,
no one who will listen,
no one who cares.
If any of these reasons resonate with you today, would you say this sentence aloud right now? I promise, you will not sound silly.
I AM NEVER ALONE.
I AM NEVER ALONE.
I would imagine that Jesus felt lonely when He was moving around from place to place preaching, teaching, healing, and doing what only Jesus can do.
I'm sure there were times when He felt isolated and alone when He was in unfamiliar surroundings or in a new village. I'm sure He experienced a lot of the same feelings you do when you move to a new place.
He probably didn't have someone show up at His door with cookies to welcome Him to the neighborhood, and I know He didn't always feel welcome in a crowd of strangers.
Although you might feel lonely, and even isolated right now, be assured that you are never alone! Jesus is with you wherever you go.
His inescapable presence accompanies you always, anywhere, anytime. And be comforted in knowing He has not only felt your loneliness, but also your pain, your despair, your grief, your sorrow, and more than likely, your nervous stomach and anxious heart.
When you really think about it, He wanted the same thing as you do when He moved from place to place—for people to know Him, love Him, and accept Him.
No matter where you are, where you go, or what your circumstances, there is a new friend waiting on you. His name is Jesus, and, like you, He yearns for you to get to know Him, love Him, and accept Him!
To encourage your heart, cling to this Psalm each day:
The Lord is my constant companion.
There is no need that He cannot fulfill.
Whether His course for me points to
The mountaintops of glorious ecstasy
Or to the valleys of human suffering,
He is by my side, He is ever present with me.
He is close beside me
When I tread the dark streets of danger,
And even when I flirt with death itself,
He will not leave me.
When the pain is severe, He is near to comfort.
When the burden is heavy, He is there to lean upon.
When depression darkens my soul,
He touches me with eternal joy.
When I feel empty and alone,
He fills the aching vacuum with His power.
My security is in His promise to be near me always,
And in the knowledge that He will never let me go.
(The Twenty-Third Psalm from Psalms Now)
In case you were wondering, this version of Psalm 23 sits on my desk, for the times when I need reassurance that I am not alone.
PS: To hear more about loneliness, listen to my latest Hope for the Uprooted podcast. You can find the podcast on iTunes, any podcast app, and at JustMoved.org. I hope you'll subscribe!
It happened again. I got on the plane, anxious to get to my seat and settle in quietly with a good book for the four-hour flight from Charlotte to Phoenix. My eyes focused on the numbers and letters above the seats in anticipation of putting my tote bag in my seat and getting my carry-on in the overhead compartment as quickly as I could.
I hardly noticed the woman sitting in the middle and the man sitting by the window as I took my bottle of water and book out of the tote bag and pushed the bag under the seat in front of me. As I fastened my seat belt, I finally looked at the woman next to me and smiled. Nothing too engaging, just being polite and cordial is my modus-operandi after I've had a busy few days speaking. I briefly said hello.
I couldn't help but look into her eyes as I spoke. They were noticeably red, with dark circles underneath and brimming with tears. Her face reflected an all too familiar pain and sadness marked with grief.
A quick nudge to my heart and emotions and I knew I was going deeper than a simple hello. "Heading back home to Phoenix?"
"No." She hesitated, then said, "We're going on to a place near the border for treatment for my husband. He has advanced, stage-four cancer that has spread. He's had chemo and radiation and there is nothing more that can be done for him. He wants to try another kind of treatment as a last resort."
"Oh," I said softly, "I am so sorry." I reached over and gently touched her left hand. Her right hand held her husband's hand tightly, as if it were a life-line between them.
During our flight, the only time she let go of his hand was when she lovingly tucked a blanket around him, opened his crackers, poured his apple juice, or helped him up to go to the bathroom. If she didn't reach for his hand first, he reached for hers. It was a picture of two people devoted to each other.
I guess it was the compassion in my eyes – or maybe it was my touch – but the unspoken words between us at that moment seemed to bring her a little comfort. "I'm Susan, what's your name?"
"Rita," she said, "and this is my husband, Charlie." I leaned forward and looked over at Charlie. He was frail, gaunt, and very pale, but he managed a smile and nodded his head.
As Rita and I talked, I learned they had been married 52 years. She was from Germany and they met when Charlie was in the Air Force during the Vietnam War. They had two children and six grandchildren. They've lived in the same house for over 30 years in a small town in Ohio. I asked her if she had a group of friends, a support group, or a church family to come alongside them. "Only our neighbors," she said. "We used to go to church, but haven't been in the last four years since Charlie has been so sick."
I was beginning to see why God had put me in Row 6, Seat C. Rita desperately needed someone who had walked a similar journey and who understood her pain. Someone who didn't have all the answers, but enough to comfort and encourage her for a time such as this.
It was then that I began to share my own story of Bill and his stage-four cancer, how it spread so quickly, and how he lived only four months after the diagnosis. I went on to tell her we had been married 45 years, had two children, and six grandchildren. Bill had also been in the Air Force during the Vietnam War.
She leaned closer to me, tears rolling down her cheeks, and whispered, "I'm so scared. I don't know what I'll do without Charlie. I don't know if I can make it." 
My words to Rita poured out of a heart that had once whispered her same words and expressed those same fears. I reached for her hand and shared these things which I knew to be tried and true during my darkest days.
"Take one day at a time. Live each precious day together to the fullest, no matter how hard it is.
Trust God when you don't understand. Talk to Him, He's listening. Run to Him, He's your refuge.
God will give you the strength you need to get through this. He's right by your side and will never leave you.
God will comfort you beyond what you can imagine.
He will guide and direct you every step of the way when you feel alone and afraid.
You will make it, Rita. If I can survive, so can you." 
I knew we were going to land soon and I didn't want to miss the moment to say one last thing. "Can I pray for you and Charlie before we land?"
"Yes, I would like that," she said.
Although I'll never see Charlie and Rita again, I think of them and pray for them often. I can still see their hands, aged by years and love, held tightly together.
I smile knowing God had my seat and row waiting for me to sit down and settle in so He could carry out His perfect plan for a four-hour plane ride.
The Lord is near to the brokenhearted and saves those who are crushed in spirit. Psalm 34:18
Could it really be – eight years? That seems like so l-o-n-g ago. To me, it seems like only yesterday. Yet, it was eight years ago this month that my husband, Bill, lost his battle with cancer. The loss of his presence still lingers with me and, in a quiet moment, I find myself smiling as I reflect on a few of the things I still miss…
his voice that I long to hear,
his footsteps as he walked in a room,
his soft whistle which was music to my ears,
his smile that made everything right in my crazy world,
and his touch that made my heart skip a beat.
I miss his insight and wisdom when I needed perspective in a situation.
I miss sharing my day and sharing my heart with him.
I miss how he brought me a cup of coffee every morning.
I miss watching him teach our grandchildren how to flip "papa's pancakes" on the grill.
I miss walking with him to church every Sunday.
I miss the man who lived out Jesus to me as we grew older together.
The loss of Bill's presence left a void in my life and heart that took me to my darkest hours on the steps of my soul. It was there that God met me in my early years of grief, soothed me with His word, and filled me with His peace and comfort. I had no idea of the magnitude and depth that God's love and care could be….and for eight years God has not once forgotten or left me.
Our marriage was not perfect by any means. When you've been married 45 years, you have your bumps along the way. Sometimes there were more valleys than mountain tops, more tears than laughter, more hurt than healing. There were years when we were more disconnected than connected, more broken than whole. There were even times when I wanted to give up and walk away – marriage was just too hard.
But I didn't. He didn't. We didn't. Even though Bill worked 24/7 in a demanding job, and I was enmeshed in our two small children, we knew we had to make a choice to commit to our marriage and whatever it took to make it work. We began to focus on God instead of our issues and problems. God's word became a light on our path. We prayed together, went to church together, joined marriage classes and marriage small groups, and hung out with mentors who modeled a Godly marriage. We learned how to communicate and talk to each other without blaming each other for everything that was wrong in our relationship. Things didn't change overnight, but over time we began to change. We began to grow deeper roots in Christ and, as our roots entwined with each other, we were strengthened and equipped as one, to weather the storms in our marriage.
My deep loss of Bill's presence, has been filled with an even deeper gain of the presence of Jesus.  My presence will go with you…Exodus 33:14
And, because of Jesus, I can face another year with peace, contentment, and the cherished memories of our 45 years together.
I want you to claim my life verse that I claimed for my marriage and kept on my favorite picture of us as a reminder of God's faithfulness:
Now to Him who is able to do exceeding abundantly beyond all that we ask or think, according to the power that works within us, to Him be the glory. Ephesians 3:20-21
So why am I sharing all this through my tears of perseverance? You…you, might just be the woman reading this that needs hope. You are going to make it through your loss. You can make it in your marriage. You will come out of your pit of despair.
Never give up, never lose hope.  And so, Lord, where do I put my hope? My only hope is in you. Psalm 39:7
From My Heart to Yours,

It was a visual  picture that will be forever imprinted in my mind. She was an attractive, petite woman in her mid-forties, with shoulder-length black hair, white blouse, and a dark colored pencil-thin skirt. My eyes were drawn to  her large red purse as she walked down the long corridor. It seemed almost too big in proportion to her small size. I guess I needed to focus on something other than my thoughts. As she walked closer, I could tell she was coming towards us, especially since my daughter and I were the only two people sitting in the waiting area.
There wasn't a smile on her face when she introduced herself. It was obvious the news she was going to tell us was not good. "I'm so sorry", she said. "There's nothing we can do. The cancer has spread…."
I wouldn't let the reality of her words penetrate my mind, not now. I went into a mama's protection mode as I pushed back my own feelings to be strong for my daughter.  "We'll get through this, we'll get through this", I kept saying.  Even though I didn't believe my own words, I said them anyway. After all,  this was her daddy the surgeon was talking about. My husband of 45 years, but her daddy that she adored.  What I really wanted to do was run down the long corridor screaming "no, no, no…"
This seemingly empty section of the hospital and surgical waiting room suddenly seemed very cold, and I began to shake as I often do when I am chilled to the bone. I began to feel the chill of the surgeon's words pierce my heart. "A  rare, aggressive  form of colon cancer that has spread to the liver and beyond…." 
I knew this was something I couldn't fix with words, a hug, or a kiss. I knew I needed to lean into Jesus–no, fall into Jesus, like I'd never done before.
I felt numb as I pushed away the reality of losing Bill.  I knew the only way I could physically take another step, or emotionally face the time we had left, was by breathing in Jesus and His word with every breath I took. In the days ahead when I felt weak, His strength became my strength. When my sorrow was uncontrollable, His comfort sustained me. When I was overwhelmed, His peace filled me.  He wiped away my nightly  tears of grief with a smile to face each day.  
Jesus still does that today, seven years later.  
Bill lived four agonizing months after his diagnosis on a Good Friday and emergency surgery on an Easter Sunday.  I never left his side. Our love for each other seemed to permeate our hospital wing and hospice.  Bill radiated Jesus with every word he spoke to the doctors and nurses. When anyone asked him what he did, he would always say, "I am a Christ-follower."  His love and concern for me, and my love and care for him became a testimony of our devotion to each other.
I recently saw the surgeon who carried the red purse and stopped to introduce myself, knowing she couldn't possibly remember all her patients.  "Oh yes", she said, "I remember you, your husband, and your two children. You were quite an unforgettable family and your husband was a remarkable man.  He had such peace, even as he faced death.  He always managed to smile, even when he was in pain, and  there was an inner strength in him as his body weakened."
As I sat in church every Easter for the last seven years, I would vividly remember that Sunday as the beginning of a life change and loss that rocked my world – and our children's world –  to the core. But, I also remember that it is because of our risen Savior, that I will see my Bill again, face to face, in Heaven.  There will be no disease, no suffering and no pain – only the joy of being reunited together again.
Then, with tears and a smile, I sing deep from within my soul, "Because He lives, I can face tomorrow…."  
From My Heart to Yours,
"I am not skilled to understand what God has willed, what God has planned. I only know at His right hand is one who is my Savior."
(Words from an old hymn given to me by a beloved friend on August 9, 2009, the day Bill went home to be with Jesus.)