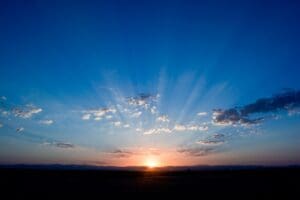 Every morning when I turn off the alarm clock, I glance over at a little pad of post-notes sitting on my bedside table that are imprinted with two words: "Stay Thoughtful." Every morning these two words start my day. They are a gentle reminder of what I should already know. "Stay thoughtful today, Susan, in what you say and in what you do." It doesn't say, Be Thoughtful, or Try to Be Thoughtful, or Remember to Be Thoughtful… it reminds me to stay thoughtful, not just over the holidays, but every day.
Then my mind began to think of other ways to stay:
Stay Kind
Stay Joyful
Stay Peaceful
Stay Compassionate
Stay Loving
Stay Content
The obvious became so clear to me, I can be these things when my focus stays on Jesus and stays on living out His love to others daily.
My mind is like a merry-go-round, whirling with things to do this time of year. A full calendar, a busy ministry, thinking about finding the right turkey on sale, finding my holiday recipes, making a list of ingredients, pulling fall decoration boxes from the garage . . . you are probably not far behind me. Our list can go on and on. Let's take a minute from this craziness before it consumes us. You and I both know there is so much more than the tasks and to-do lists over the holidays.
I know I need to stop and get off the merry-go-round I am riding. I need to refocus from doing to being, from rushing to staying. I need to stay focused on Jesus and I need to stay intentional about living out His love to others.
I think it's a good idea to start our day with this little prayer. I'll place it right next to those post-notes by my bed so I'll see it each morning when I start my day. What about you?
Oh Lord, with this holiday season approaching, and all the distractions that can so easily rob me of reflecting YOU, may I be ever mindful to . . .

Stay Thoughtful in the busyness of the season,

Stay Kind in my interaction with people,

Stay Joyful even when I don't feel joy,

Stay Peaceful in the midst of holiday chaos,

Stay Compassionate with those less fortunate than I am,

Stay Loving to those who are unlovable, and

Stay Content in my circumstances.
Have a grateful Thanksgiving, my friends, and happy cooking!
From My Heart to Yours,
It was one of those unexpected encounters on an ordinary, uneventful morning.
I took my oldest granddaughter to a southern landmark restaurant for breakfast when I was in Atlanta visiting family and friends. It was a no-frills, down-home, country-cooking, everything-is-better-with-bacon-biscuits-and-butter kind of place. The blackened, aged grill was sizzling with eggs, bacon, ham, and sausage, and was in full view as we walked in the door. It was as if we'd walked right into the midst of all the kitchen action. We couldn't wait to have what was cooking. The coffee pots were constantly being filled up and poured out. Everything was humming to the tune of being well organized by experienced people who knew the daily routine.
All the customers seemed to fit in together―from overalls to suits, country to city, young to old―as they sat up at the counter or in one of the booths that lined the windows. In the small restaurant, space was limited, but friendliness and southern hospitality overflowed from the waitresses to the cooks. (And, by the way, all the regular customers knew them by name.) "Come on in and have a seat," someone said from behind the counter.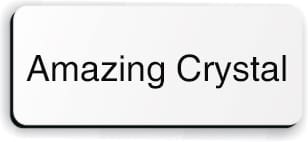 Within a matter of seconds, a server appeared at our booth with a brimming pot of coffee in hand. I quickly glanced at her name tag, then took a second look. "Amazing Crystal" stood out in big, bold print. The clip-on gold stars that designate years of service covered the name tag around her name. I loved her boldness and confidence in describing herself, and immediately liked this woman.
I looked at her and smiled as I repeated her name. "Amazing Crystal?"
"Yes, I try to be amazing every day," she said proudly. Her big welcoming smile embraced us, but, behind the makeup and mascara, her eyes looked tired and her face reflected years of stress.
Crystal went on to say how she believes in treating her customers with kindness, takes time to listen and interact, and gives them her best service no matter how busy she becomes.
"People need positive, caring people in their life. There's plenty of negative people who can pull you down," she said. I sensed she had experienced her share of negative people and was determined not to be one of them.
My granddaughter and I savored each bite of our delicious hot breakfast as Crystal checked in on us and anticipated our every need―always with a kind word and a smile. I watched her go to each table interacting with those she knew and making new friends of strangers. People who came in without smiling, perhaps because of a heaviness of heart, would leave with a smile and a wave. "Do come back to see us," she would say.
Like Crystal, I want to try to be amazing every day.
She was a gentle reminder to me of how little it takes and how simple it is to be amazing. It's not always about doing big things and it's certainly not complicated. It's about being nice, being kind, taking time to listen, smile, and be positive―even when you don't always feel like it. And, being amazing can be contagious. It's a lot like spreading joy and being a light in someone's darkness who just might desperately need to feel the love of Jesus through amazing you.
I will go back to that restaurant again when I'm in Atlanta, and I'm sure Crystal will greet me warmly and treat me like we are old friends. I can hardly wait.
Let every detail in your lives―words, actions, whatever―be done in the name of Jesus.… (Colossians 3:17, The Message)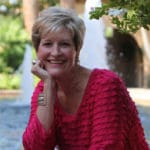 From My Heart,
Susan
In the rush of moving on to the next thing on my schedule, or being preoccupied with my thoughts, I can't believe how easy it is for me to actually forget to take time and say two little words.
In the busyness of my life, I often underestimate the power of saying thank you to acknowledge someone for their kindness, service, or thoughtfulness.
Two simple, little words that can make a person's day. It can change an attitude from negative to positive. In an often thankless job, it makes a person feel appreciated for what they do. It can encourage a discouraged heart. It sets an example that hopefully will be passed on to others. You and I know how it feels when we are thanked for even the smallest thing we've done or said. And yet, so often, I miss the moment when thank you can impact a life.
Don't limit the ways to express your thanks to a family member, a child, a friend, or even a stranger. It can be verbal, in a note, a phone call, a text, an email, or perhaps even a small gift. And don't forget that a smile and eye contact speaks volumes when thanking them in person.
I can't help but recall the story of the ten lepers who had been healed by Jesus (Luke 17:11-16). Only one of them stopped, turned around, and went back to thank Jesus for what He had done. Wow! It makes me wonder how many other people that Jesus healed had stopped to even whisper "thank you" in His ear before they went on their way.
When was the last time I stopped, turned around, and went back to thank someone in the busyness of my day? The story of that one leper who took the time to stop and say thank you reminded me of my own forgetfulness to do the same thing.
I thought of this vivid word picture from scripture the other day at the grocery store. I was in the parking lot with a loaded cart in the Arizona heat. I was so ready to get the bags in the car and turn the air conditioner on to cool off. Then I noticed a young employee limping across the parking lot as he gathered carts to return to the store. His shirt was wet with sweat.
It suddenly became a matter of my heart, not the heat I was trying to escape.
I spotted a cart two cars from mine and saw that he was walking over to get it. I quickly pushed them over to him and thanked him for gathering the carts on such a hot day. He smiled and said, "My pleasure, this is my job."
It wasn't hard to come up with a list as I determined to be more intentional with people I encounter weekly.
Perhaps you can make your own list also.
The waitress or waiter that serves me in the restaurant. 
My neighbor who rolls my large garbage can to the street for pickup each week. 
The checkout clerk at the store. 
The person who takes the time to hold the door open for me. 
A friend who gives me the gift of listening to the cry of my heart. 
A grandchild who does me a favor without complaining about it. 
The receptionist on the phone who is courteous and helpful.
The older gentleman who takes my ticket at the movie theater. 
The teenager at the drive-through window.
Oh Jesus, I need to begin and end my day with thanking YOU first! May I never get so distracted that I overlook your mercy, grace, and yes, healing.

YOU fill me with your love, goodness, encouragement, and kindness. I am blessed by your presence each and every day.

May I never forget to stop whatever I'm doing, turn around, go back to Jesus and whisper, or even shout, THANK YOU!
Go out and make someone's day with a "thank you"…and start with Jesus….
From My Heart to Yours,