I love to read and re-read stories in both the Old and New Testament of the Bible. It is in those timeless stories that I learn immeasurable things about God – His unconditional love for us, His mercy and grace in our lives, His forgiveness, and how to be Jesus to others.
I don't know about you, but I need to be reminded of those things over and over again. Too many times the world's view crowds my mind and I can easily get distracted from the truth of God's word. I need to go back to the Bible often to read and re-read what I know and believe. His word is fresh and new every time and I am always learning more!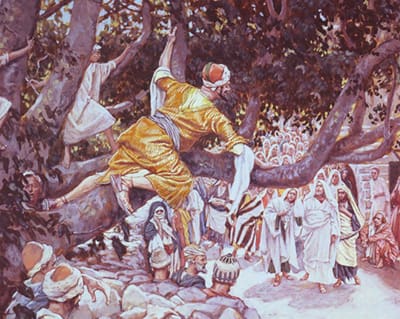 All that to say, I was preparing a devotional for a large gathering of women in my home last week and I had been re-reading the story of Zacchaeus in Luke 19:1-9. God never fails to teach me something new, or give me deeper insight or meaning from His stories. Let me give you a glimpse of Zacchaeus' encounter with Jesus and what I learned this time.
Jesus was passing through the town of Jericho on his way to Jerusalem and a crowd of people began to follow him. A rich tax collector, Zacchaeus, wanted to see Jesus too. Not only was Zacchaeus small in stature, he knew he was also despised and hated by the crowd as any tax collector was in those times. So he ran ahead of the crowd and climbed high up in the thick branches of a sycamore tree. The branches were covered with large leaves, so he could not be seen, but he could see Jesus. When Jesus came to the sycamore tree, He looked up, saw Zacchaeus, and called him by name. "Zacchaeus hurry and come down, for today I must stay at your house." He came down and took Jesus to his house in great excitement and joy.
Jesus offers unexpected love and acceptance, and that love becomes a life-changing force in Zacchaeus' life. Jesus' gift of grace to Zacchaeus prompts Zacchaeus to offer grace to others by giving money back to the poor. His inner change is revealed by his outward action and changed behavior.
WOW!! I am all over what God revealed to me in this story!! Read on….
First of all, you can't hide from God. No matter how hard you try, how far you run, or where you go, God knows exactly where you are. There is no secret he doesn't know and no past you can run from. He sees through the mask you hide behind to cover your pain, hurt, and brokenness.
Then, God sees you. Yes, wonderful, uniquely created, YOU. In the middle of a crowd, He singles you out. He's got His eye on YOU. He loves you, accepts you, and forgives you – always, forever, and no matter what.
And, God knows your name. Not only does God see you, He even calls you by name to be His own daughter. He calls you down from all the branches of busyness that cover you each day. He is calling you by name to say yes to Him!
But Wait, There's More!
Consider doing these things…
Be a "tree" in someone's life! Zacchaeus climbed a tree to be able to see Jesus. Allow others to be able to see Jesus in your life. Spread your branches of trust, faith, and hope for others to see Jesus in you daily and during tough times.
Climb higher than your circumstances for a clear view of Jesus. Zacchaeus also climbed high above the crowd to get a great view of Jesus. Sometimes you have to rise above your circumstances that might cloud your view of Jesus. It's so easy to lose your vision of Jesus when you are preoccupied with hard issues you're going through, or in the thick of your to-do list or busy schedule.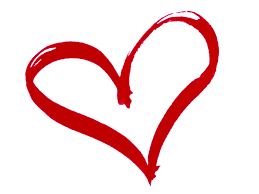 Go out and startle someone with the unconditional love of Jesus. Jesus "startled" Zacchaeus by seeing him hidden in the sycamore tree and calling his name. Be Jesus to someone and "startle" them by showing His love today. The best place to start is with your family!
I think you and I – and Zacchaeus – have learned a whole lot of life-changing stuff from his simple little story. Sure does entice me to want to read more. I'm hoping you do too….
From My Heart to Yours,
I don't know about you, but I am a music lover, ranging anywhere from Country to Lite Rock to Pop Hits to Piano to Praise and Worship. You should see my playlist. I'm all over the map with my choice of music.
While working on the computer, I'll tune in to Pandora and listen to whatever inspires me for the need of the moment. Since I'm so cheap, and listen to FREE Pandora, there are commercial breaks every so often that I just tune out mentally and keep on typing. Every now and then the music stops. Now that will get my attention.
I have to stop typing, click on Pandora, and this message appears on the screen:
Are you still listening?
It's no fun playing to an empty room. 
Click to return to station
The first time I saw this I smiled and thought, how smart is that! The advertising and marketing people came up with something so clever. I have to take action to get back to the music.
But then, the more those words popped up, the more I began to think…and then wonder—
Does Jesus ever feel like saying that too?
Are you still listening?
It's no fun talking to you when my words are spoken to an empty room.
Don't you want to hear my song of hope, comfort, peace, and encouragement?
Return to me…
It's so simple to reconnect.
Be still
and
Listen to me again…
Click here, I'm waiting for you.
"Go out and stand before me on the mountain," The Lord told him. And as Elijah stood there, the Lord passed by and a mighty windstorm hit the mountain. …but the Lord was not in the wind. After the wind, there was an earthquake, but the Lord was not in the earthquake. And after the earthquake, there was a fire, but the Lord was not in the fire. And after the fire, there was the sound of a gentle whisper. When Elijah heard it, …he went out and stood at the entrance of the cave. And a voice said, "What are you doing here, Elijah?" I Kings 19:11-13
Elijah knew the sound of that gentle whisper was God's voice. He realized that God doesn't reveal himself only in powerful, miraculous ways.
Too often, we only look for God in the big things and easily miss Him gently whispering in the quietness of a humbled heart.
Are you listening for God?
Step back from the noise and activity of your busy life this Spring and listen humbly and quietly for His voice. It may come when you least expect it.
God has something to say to you—R I G H T  N O W
It could be just a click away.
Happy Spring and Happy Listening!
I came up with a great idea for the New Year! It's something you and I can do together even though we are miles apart. It will connect us each day. It will bring us hope, encouragement, and comfort as the days of the New Year unfold. It will deepen our relationship with God and draw us closer to Him. Pique your interest yet? 
As I read from two daily devotionals on the first day of January, my heart felt refreshed and renewed through the soothing, calming words, and the reassurance of scripture. My thoughts turned to you, as I knew how much you probably needed the same words and the same scripture to give you hope and encouragement each day too. Because I so want to connect with you, my idea is to read a devotional together each day!
So I ask you now, not to make another New Year's resolution, but to join me every day in 2015 reading God's word or going through a daily devotional. If you need some suggestions, the two I am reading each day are Jesus Calling (Sarah Young), and the timeless classic, Streams in the Desert (Mrs. Charles E. Cowman). Another classic devotional book I love is My Utmost for His Highest (Oswald Chambers). Perhaps you have a favorite that you would like to suggest. Email me your favorite and I'll pass it on to our moving friends.
A year before Bill died, we had started reading through the Bible together. We would put a bookmark where each of us had read for the day. His bookmark was always ahead of mine. Sometimes I would have to catch up at the end of the week. He loved to share with me the insight he gained from what he read. Little did we know then what our year would hold with Bill's cancer diagnosis. I am grateful we shared God's word together daily until he went home to be with Jesus.
The following year, I finished what we started together as I completed the book Meet the Bible; A Panorama of God's Word in 366 Daily Readings and Reflections, by Philip Yancey & Brenda Quinn. It took me through the Bible in one year. I knew that would anchor me for the year ahead and would please Bill very much.
Now, I have started re-reading my Bible again from the beginning, and continue to find God's word and His promises to be what I cling to daily. It will anchor me all the days of my life, and would bring a smile to Bill's face.
The Lord's lovingkindnessesindeed never cease,
For His compassions never fail.
They are new every morning;
Great is Your faithfulness.
Lamentations 3:22-23
I wish you an amazing New Year, full of surprises and excitement for all that God has planned for you!
From My Heart to Yours,
P.S.  Don't be a stranger, you matter in my life. Send me your prayer requests at PrayerRequest@JustMoved.org and stay in touch this year. I'm just a phone call (480-991-5268) or an email away. (susanmiller@justmoved.org).
Remember that we have many ways to connect—through our website at JustMoved.org, our Just Moved Facebook , the Just Moved Sisters, Weekly Words of Encouragement, and our Bloom publication, and my Twitter account.
My daughter, Ginger, is a substitute teacher at her children's elementary school every day–but Thursday. That's the day she takes off to go to a Bible study at her church. 
Recently she was sharing with me how much she loves the study and the women who sit around the table and discuss the teaching at the end of class.
A young woman with three small children spoke up and said how difficult it was to read or study the Bible with the all-consuming time it took to meet the needs of her children.
I was amazed at Ginger's response. Little did I know…
"Well, I sure understand that!" Ginger said to her new friend. "I've got four kids, and I know how hard it was when they were little to do anything for myself, much less read or study the Bible. Here's what I did that might help you. My kids would crawl up in my lap, or sit beside me, and I would read them stories from their children's Bible, which had pictures, and story illustrations. Not only did they learn about the Bible, but I did too! It may have been written for children, but during that time of my life, it sure worked for me." Her friend said profoundly, "What a great idea! I can do that!"
Two things came to mind as I listened to Ginger recount this story.
One, I didn't even know she was reading the Bible to her children, my grandchildren. That alone warms my heart.
Two, she is now at a stage of her life where she can mentor younger moms through her own experiences.
So, I'm just thinking…
Do I seize the moment to take time to read and study my Bible, even when I am crazy busy? It's really easy for me to get distracted by all the things on my to-do list, even without having small children. Psalm 46:10 says, Be still and know that I am God—I need that reminder. I'm not very still most days.
Do I seize the opportunity to share my life experiences with younger women who need encouragement on their journey in marriage and parenting? It's really easy to brush by the need when my schedule is so full. Titus 2:4 says,…encourage the young women to love their husbands, to love their children…I need that reminder. My calendar is pretty full these days.
Thank you, Ginger—you have taught your mom well.
I had to part with my Bible recently to have the outside cover replaced and the inside repaired. It was falling apart after years of gentle wear and tear. The cover had completely separated from the spine, and the pages were loose. Over time, it had become more difficult to hold it together. When my Bible was sent to the bindery, I wasn't sure how long it would take to repair, when it would be returned, and wondered if I would even recognize it when it looked all shiny and new. 
Being without it left such a void in my life. Although I have other Bibles that I used during that time, they just weren't like my old
one that had become an inseparable and intricate part of my life.
It was like saying goodbye to a beloved, intimate friend that I'd grown so comfortable with over the years. A friend that would shower me with unconditional love and joy, speak truth into my life, and give me encouragement when I needed it. A friend that I trusted with all my heart, and would be there for me when times were tough. A friend who was a lifeline of hope and gave promises of good things to come. The pages of her life had been a model for all I wanted to be. My Bible had become over the years, my beloved, intimate friend.
The days slipped by, and then the weeks came and went, until it was repaired, restored and whole again. At last– it was ready! I could hardly wait…
When I first saw it, it looked so unfamiliar. When I first held it, it felt so stiff in all its newness. I felt like I had to get reacquainted with an old friend that I hadn't seen in a long time. Would we bond together as before? Would we pick up where we left off and resume the rhythm of our friendship?
Then as I opened my Bible, the pages once again wrapped around my heart. The scripture – underlined from years of use, notes in the side columns used in teaching, dates written by verses that marked milestones in my life – embraced me like an old friend. The familiar words comforted me again with God's love. As I turned the pages, I felt joy within, the power of encouragement, the impact of truth, and hope that permeated my mind and emotions. Hello, old friend…
God's word withstands the changes that occur around us. Life can fall apart, we can be worn out, feel like we're coming unglued, or even useless to anyone. It's what's inside us, written on the pages of our heart, that will sustain us in the wear and tear of life. Don't wait until the years go by, and you become older, make God's word an inseparable and intricate part of your life now. Welcome an old friend…