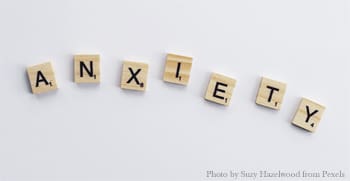 Most of us have never had to go through a worldwide pandemic that has caused such a magnitude of change to our country and to our daily lives. Millions of people have had their lives uprooted and changed by the physical effects of illness, death, or loss of a job or business. They may be unable to put food on the table, put gas in the car, or make mortgage or rent payments.
In addition to the direct impact of the virus, you may be going through an emotional crisis of a broken marriage, a severed relationship, the loss of a child to disease, or a teen addicted to drugs.
The residual effect of any of these things can become an emotional pandemic of grief, loneliness, anger, depression, despair, and even hopelessness.
It's easy to lose perspective and a sense of self when you've been blindsided by a major life change or crisis, isn't it? It's unplanned and unwanted. You are unprepared to handle the unknown that seems to consume your thoughts and your daily life.
I know. When Bill, my husband of 45 years died of cancer, I was left feeling numb, shocked, and devastated. My life, and everything in it, changed from being complete to being crushed. I felt an overwhelming sense of loss and grief that I could not have anticipated. Then, when my daughter went through a divorce, I grieved over the loss of an intact family life for my four grandchildren.
If you've experienced a life-altering change or loss in your life, you know how hard it is to pick up the pieces of your shattered world and try to put life back together again. Those pieces will not fit together in the same way. Life as you know it may never be the same again.
With a severed and uprooted life comes change, with change comes loss, and with loss comes a myriad of emotions.
Right now, as you live through the ripple effects of this pandemic on you and your family, you may be experiencing some of those same feelings and emotions I had when my life was uprooted by death and divorce. Like me, I sense that many of you may be grieving over the life-altering changes and losses this virus has brought to your lives. You may even feel angry with circumstances beyond your control, alone without family or friends to come alongside you, depressed that there seems to be no end in sight, or feeling hopeless about getting back on your feet again financially.
How well you cope with these unfathomable changes – where you find the strength and the faith to start over and the perseverance to move forward with your life – has a tremendous effect on how well you recover.
Going through the emotional roller coaster of this pandemic may leave you feeling like you've hit rock bottom. You can make the choice to either stay there or see God as the rock and foundation on which to rebuild your life. It may seem impossible now to put the pieces of your life back together again, but it can be done with God's help. It might look different than you imagined, but you can experience wholeness again. Life can, and will, regain a normal rhythm. Don't let the impact of this unwanted change cause permanent damage to your life, your marriage, your family, or any relationships. Use this experience to grow stronger and more resilient, yet tender and more compassionate. Use this time to become more grateful for what you do have and less preoccupied with what you don't have. Seek to discover a deep need in your soul to cling to God and trust Him for each day.
Yes, I hear you. You think you can't. You can.
You think you are alone. You aren't.
You wonder if your faith will stand this test. It will.
You want answers and explanations. God gives you His promises to rely on.
You want the assurance of knowing what tomorrow will bring. God assures you of His faithfulness in all things.
You want to reason with God about everything. God wants you to rest in Him.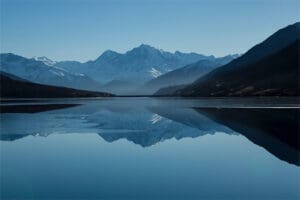 God's grace is sufficient, my friends. May you live each day with a peace that is beyond understanding and a hope that is anchored in Christ. Here are some of my favorite scriptures that bring me comfort during this emotional pandemic. May they meet you at your point of need…
Draw near to God and He will draw near to you. James 4:8
Come to me, all of you who are weary and carry heavy burdens and I will give you rest. Matthew 11:28
Wait for the Lord; Be strong and let your heart take courage…Psalm 27:14
I am with you always, even to the end of the age. Matthew 28:20
The Lord is near to the brokenhearted and saves those who are crushed in spirit. Psalm 34:18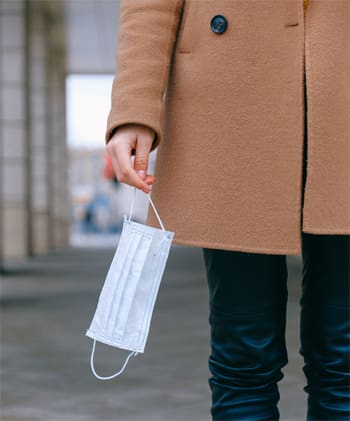 "Social distancing" is a new term in my world. Don't get too close, don't touch, and definitely don't hug. These are words that are quite the opposite behavior in my relationships with people I know and love.
This is a time in our nation, and in our world, that we could never have imagined living in a pandemic of this magnitude.
A time when words like isolation, quarantine, lockdown, and shelter in place are all too familiar and real. We have transitioned from busy schedules, full calendars and meals on the run, to an open schedule, an empty calendar, and eating every meal at home. We have transitioned from fearless to fearful, from constantly being on the go to a sudden stop, and from having what we need available and accessible to waiting and going without it.
The reality of the physical, emotional, and economic effects of the Coronavirus has hit our nation like a ton of bricks. The impact of the blow has been devastating to countless people and has become a crucial change point in our daily lives.
It occurred to me that most of us have experienced some kind of isolation or lockdown—physical, emotional, or economic—in our lifetime.
It could be a physical lockdown from an illness, a disease, or abuse that is debilitating—crippling your body, mind, and spirit. You are so helpless to do anything about it. Your physical condition dictates your day and you feel helpless. You can't run, you can't escape—you have no control over what's happening to you. You are powerless in the lockdown.
It could be an emotional lockdown from the pain of loss, a broken relationship, fear of the unknown, or shame brought on by circumstances. For those of you who have been there, you know what it's like. You shut yourself off from everything and everyone, and simply close down your feelings and emotions. You find safety in the lockdown.
It could be an economic lockdown from the loss of a job, bankruptcy, or an economic situation that is beyond your control. Your last paycheck is stretched to the max, you've tapped into your savings and it's almost gone. You don't know how you'll provide for your family, pay the bills, or even buy groceries. You are trapped in the lockdown.
And now, today—with this pandemic virus living among us—we are experiencing all three lockdowns: we feel powerless and helpless, we find safety in being isolated, and we feel trapped with our circumstances. So, you ask, what do you do when you're in this lockdown situation?
When I first realized the severity of this pandemic, I began to ask myself the hard questions:
What do I do now?
How do I stay calm?
How will I get through this?
What will happen next?
The answers surfaced from within very quickly.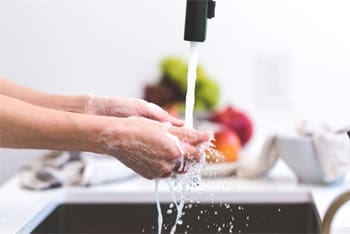 Practically speaking…
Just Do It!
We can do our part by taking the precautionary and pro-active guidelines seriously. It will take all of us to do this, not just a few of us.
Stay connected with one another.
Social interaction is key to help counteract depression, loneliness, and anxiety. I know we can't get together with family and friends, but we can hold hands and stick together through the internet, social media, Facetime, phone calls, texts and emails. Be creative with how you practice social distancing.
It's okay to not be okay.
There will be days you will feel like you just can't get it together emotionally. I have days I find myself weepy over the smallest thing I see or hear, or days when I want to do anything but what I have to do. Give yourself permission to have an emotional "off day." Just don't get in an ongoing slump. Take care of yourself. Connect with someone and share how you feel.
Celebrate small victories.
Perhaps you cleaned out your closet, deleted all the pictures you didn't want on your phone, organized your kitchen drawers, or caught up with filing a pile of papers. Yay you! I celebrate by taking a break and having a bowl of popcorn!
Do the next thing.
I get overwhelmed like you do sometimes. I step back from a long mental or written list, take a deep breath, and simply do the next thing that is a priority for today. What can be done tomorrow or next week? Don't try to do it all in one day if you are feeling overwhelmed, because then you'll get nothing done.
Stick to a routine as best you can.
I am intentional about exercising every day. I "walk and wave" or ride my bike. Part of my routine is to call and check in with different friends who are living alone.
Make your bed first thing each morning.
This small thing can start your day off with a feeling of accomplishment. (And, you won't be tempted to crawl back in the bed for the morning!)
No matter how helpless you might feel, let your common sense kick in.
Do the right thing even though it might be something you don't want to do! We have to make some hard choices—stay at home, don't stop by a friend's house for a visit, stretch the paycheck when you've been laid off, and saying "no" to things we've always said "yes" to.
Don't do or say anything you will regret later.
Remember, we are all feeling some kind of stress and our emotions are fragile. Many times in the heat of the moment I can do or say something that I regret later. Actions and words will be remembered. When you respond calmly—instead of with anger or frustration—you will be less likely to have regrets. God is on center stage, reflected in you and through you by your actions and your words.
Be wise. Don't foolishly put yourself in harm's way, but don't hesitate to cautiously help someone in need.
Oh my goodness, yes! When you go to the grocery store, pick up something a friend needs and drop it off at her front door. Start a group text with friends and gather their creative tips and suggestions for ways to reach out to others. To meet a big need, I'm going to donate blood to the Red Cross.
And, above all…
Go back to what you already know, what you've learned, and what you've been taught about our sovereign, almighty, unchanging God. And if you don't know Him, now is the time.
Run to God—You have nowhere to go, so run with all your might to Him. If you think about it, there is really nowhere you can go that is safer than in His presence. He alone is your refuge. Lean in to Him and dwell in Him. Depend on God to give you the strength to endure your circumstances. You might be looking for the answers in all the wrong places and God has been there right beside you all along, just waiting for you to come to Him.
God is our refuge and strength, a very present help in trouble. Psalm 46:1
Pray—Pray faithfully and without ceasing for the virus to pass. Pray for protection, inner peace, and a calm spirit. Pray for the leaders of our nation, our health care workers, first responders, those who have lost their jobs, and countless others who are on the front lines of this war against an invisible enemy every day. Pray that God will use you for His glory, and that you might be a light in a dark situation.
…pray without ceasing…1Thessalonians 5:17
The effective prayer of a righteous man can accomplish much. James 5:16
Renew your mind—In times such as this, recall God's word and rest in His promises. Repeat scriptures of God's hope, encouragement, faithfulness, comfort, and protection out loud. Saturate your mind and fill your heart with the remembrance of His word.
Do not be conformed to this world, but be transformed by the renewing of your mind…Romans 12:2
Trust God—Every day we face the unknown. Trust Him with your whole heart with the things you can't control in your life. If you feel afraid and lonely, be assured that God will be with you, His presence will surround you in all circumstances, regardless of what the outcome might be.
Trust in the Lord with all your heart; do not depend on your own understanding. Hebrews 3:5
Be grateful—No matter what, there is always something, or someone, to be grateful for. Recount your blessings. Focus on being grateful every day. It's hard to be negative when you are thanking God. When we all get through this, don't forget to thank God first before you do anything else.
It is good to give thanks to the Lord, and to sing praises to Thy name…Psalm 92:1
It's important to remember that a crisis has a beginning, a middle, and an end. We will get through a time such as this. There will be life after the Coronavirus. This too shall pass. We will stand together and wait together, united in faith, hope, and prayer, to face and fight this pandemic.
And while we are waiting, my friends, wait well and love well.
We will come out of this wiser, stronger, more resilient, kind, and caring. We will learn a lot about ourselves and a lot about others. We will learn we can live with less, rather than more. We will be reminded that family and friends are more important than all our possessions. We will be reminded how quickly circumstances can consume our focus and how easy it is to lose our focus on God. We will be reminded to cling to God and His word, to pray, to trust Him, and to be grateful.
But as for me, I will sing each morning about your power and mercy. For you have been my high tower of refuge, a place of safety in the day of my distress. Psalm 59:16 TLB
I have many treasured childhood memories that continue to impact my life, even today. One in particular is my grandmother, Leila Brown, who was known by her grandchildren, nieces, nephews, and cousins, as simply, Mother Brown. She was, indeed, another mother figure to all of us and the matriarch of our family.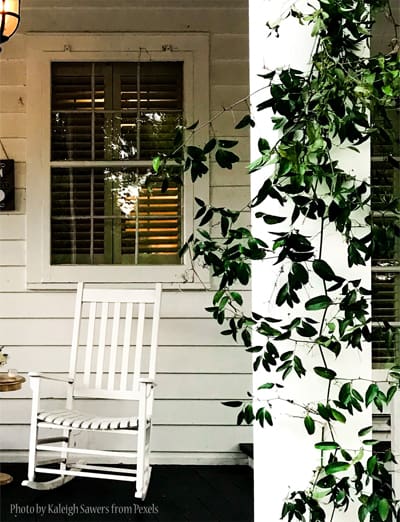 All of us loved to gather at her house during the summer, swing in the hammock and rock in the rocking chairs on the porch that wrapped around the house from the front to the back. Then we would venture in the back yard to see who could find the most pecans on the ground under the pecan trees. This was the house where my cousin and I would climb up the oak tree and swing across the driveway, hanging on to the wisteria vine that grew entwined in the strong limbs of the oak tree. I often refer to this in my teaching as a visual for how we should be entwined as one with God and He will hold us across our road of life.
I vividly remember Mother Brown's simple print cotton dresses with buttons all the way up the front, buttoned to the little round collar at her neck. She always wore stockings and the same black lace-up shoes. She seemed to wear an apron from morning to night. I remember her mostly being in the kitchen with a kitchen towel thrown over her shoulder to easily dry dishes at the sink. This became a habit I often find myself doing without even thinking about it.
My most cherished memory of Mother Brown was in her favorite rocking chair, with her worn and tattered Bible open in her lap. She would rock back and forth as she prayed for each person in our family – especially for my daddy, who was deployed and serving in the Korean War. I watched her underline scripture with a pencil, listened to her pray out loud, and heard her praise God in all circumstances.
This. This was the beginning of forming my prayer life.
To this day, I can see and hear Mother Brown rocking and praying. A childhood memory that subconsciously left an impact and became a legacy Mother Brown left behind without ever knowing.
I don't have a rocker like she did, but when I'm deep in prayer I find myself actually rocking back and forth wherever I'm sitting. Many times I will open my Bible in my lap, underlined in pen throughout the pages, and drink in God's encouraging word like a refreshing and much needed cup of cool water.
Writing this blog has made me stop and think about how I influence those who are watching and listening to my actions and words. It doesn't matter how young or old we are, or what season or stage of life we might be in – we can influence, impact, or leave a legacy to someone.
People in our life are listening to what we say, watching what we do, and reading the pages of our life.
I certainly haven't always been a model example by my actions and words by any means. But this much I've figured out in life: I can influence others by how I live my life for Jesus and the choices I make to live out the fruit of the Spirit. (…the fruit of the Spirit is love, joy, peace, patience, kindness, goodness, faithfulness, gentleness, self-control… Galatians 5:22-23)
Mother Brown sure did, and I am blessed for her positive influence on my life and the irreplaceable memories created at her southern family home. Also, I just have a feeling I was on her prayer list for many years, and for those faithful prayers, I am eternally grateful.
From My Heart to Yours,

pray without ceasing…"  1 Thessalonians 5:17

Devote yourselves to prayer, keeping alert in it with an attitude of thanksgiving…." Colossians 4:2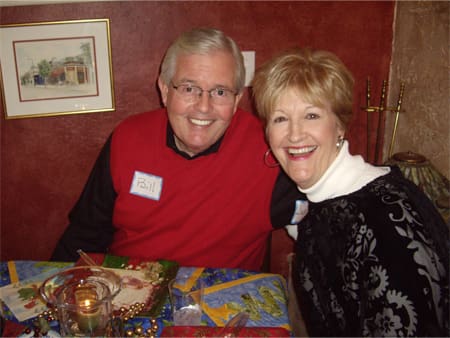 It happened years ago on a busy two-lane road that was a major thoroughfare from south to north Phoenix. My husband, Bill, was driving home from work in his small two-door pickup truck and had stopped at a red light. He looked in his rear view mirror and saw a car coming in the distance at a high speed. Bill thought the driver would see him stopped at the light and would start braking. What Bill didn't know was that the driver had just left school and was preoccupied with the loud rock music on his radio. The driver either didn't see the red light or didn't see Bill stopped at the light.
He didn't brake.
He rear-ended Bill's truck at such an impact that it flipped the truck over and into the oncoming lane of traffic, hitting a van that was also stopped at the light.
As the helicopter whirled overhead and the fire truck and ambulance arrived, Bill had to be pulled out through the shattered window of the truck. It was a miracle he survived such a traumatic accident and that no one was seriously injured. His body was embedded with shards of glass, which we continued to pick out of his skin and head for months. He had a concussion, his hand was broken, and he was badly bruised and battered from head to toe. The driver of the car that hit him was able to walk away unharmed from the accident.
When Bill was released from the hospital, he could not get in or out of bed or walk to the bathroom without my help. He was too incapacitated to go to work for several months. The physical trauma was hard, but the emotional trauma was harder. He had nightmares of the accident and was hesitant to even ride in a car, let alone drive one.
Spending days, weeks, and then months at home as Bill's caregiver, I found myself, along with Bill, getting discouraged. Every morning as I went in the bathroom to brush my teeth and splash cold water on my face, I would stand there in front of the mirror with tears of exhaustion in my eyes and whisper to God in prayer, "Let Bill begin to heal today."
I was reminded of the parable on prayer in Luke 18:1-8, where Jesus told his disciples a story to illustrate their need for constant prayer and to show them that they must never give up. The parable tells the story of the persistent widow who repeatedly made her request for help before a godless judge. I imagined her relentlessly getting in line every day until he responded. As each day went by I would take a small step forward as if I were in line, and whisper,
"It's me again Lord. Is it Bill's turn to begin healing yet?"
For us to persist in prayer and not give up does not mean an endless plea as the widow did in the parable. Constant prayer means keeping our requests continually before God as we live for Him day by day, believing He will answer. When we live by faith, we are not to give up and not to lose heart. God may delay answering or He may not give us the answer we pray for; but every prayer is heard and, in God's infinite wisdom, answered. As I persisted in prayer, it was another step forward in the growth of my faith, trust, and hope.
It took a long time, much longer than we wanted, for Bill's complete physical and emotional healing. In God's perfect timing, he grew stronger and we grew stronger together. What God taught us, especially me, during that waiting time, I could have learned no other way. At that time, I personalized Proverbs 3:5, "Lean not on your own understanding, Susan. Lean on Me, trust Me. Seek My will in everything, and I will direct Bill's path."
You might be going through a really difficult season of life, circumstances beyond your control, or a life-changing crisis. Perhaps you too need to "get in line every day," and persistently pray with faith and hope, trusting God every step of the way. Never give up, never lose heart!
Life comes into perspective with a close call on a rain swept highway  
It was cold, windy, and raining like crazy, but we had tickets for a play in downtown Atlanta and reservations at a fabulous French restaurant. It was going to be a memorable Sunday afternoon for all the girls in my Atlanta family. We didn't want to drive or try to find a parking place in pouring down rain, so four of us took Uber to be dropped off at the front door.
I sat in the front, the other three sat in the back. Of course it's only natural that I engage in conversation with any of my Uber drivers. I love to ask about their family, what they enjoy doing, how long they've been driving for Uber – anything that helps reveal more about who they are. Everyone has a story and I've heard some interesting tales and heartwarming sagas over the course of my travels.
Harold was his name, he was probably in his sixties, divorced with grown children and grandchildren, former military, and a retired Greyhound bus driver. When we all expressed our concern about driving in a hard rain in four lanes of traffic on the freeway, he assured us in a calm voice that he had learned how to drive in all kinds of weather and emergency situations with his Greyhound training. Knowing that, I felt somewhat relieved.
About half way to Atlanta, the rain had gotten worst and the windshield wipers couldn't seem to move fast enough. We were in the middle lane when a small, low, two-door sports car passed us on the left going much too fast. The driver hit a pocket of water at high speed, swerved into the HOV lane, hit the cement barrier, jig-jagged over into our lane and the lane on our right and then did a tailspin in front of us. We saw it unfold right before our eyes in panoramic view, not knowing if we were going to hit the car or the car was going to hit us. I could do nothing but pray.
I reached over and grabbed Harold's arm with one hand and braced myself with the other hand on the door. I didn't panic, but watched helplessly, only repeating Harold's name several times. Harold said nothing. He calmly began to break slowly in intervals, rather than slam on the brakes as I would have done. His eyes quickly checked the rear-view mirror and both side mirrors. Because of the rain, traffic behind us was slower, with enough distance behind our car to brake and pull off the freeway once they saw what was happening.
We swerved slightly into the right lane, missing the sports car, then came to a complete stop that seemed inches away from the car's fender. Only by God's grace and mercy did we avoid what could have been a deadly accident for all of us. I truly believe Harold was our angel of protection behind the wheel.
We arrived at the restaurant and the play on time, still shaken from our experience, but enjoying every minute. It turned out to definitely be a "memorable" afternoon.
I always try to reflect on what I've learned from a life experience, whether it's good or bad. God teaches me something in any or all circumstances, if I just take the time to let Him reveal it.
As the New Year begins, most of us will face circumstances beyond our control at one time or another. It's a part of life. It's how we learn to cope and how we learn a lot about ourselves. Sometimes we grow stronger and wiser from our experiences, other times it can cripple us emotionally or physically. Sometimes we don't have a choice.
Here are some of the things I was reminded of on the freeway that Sunday afternoon. I hope they will encourage you and bring you hope for 2020. . .
The unexpected will happen
As much as we try to do everything right and everything possible to avoid a situation, we can be blindsided by the unexpected. So buckle up and know you are never alone. God will not leave you – ever. His presence accompanies you when the unexpected happens.
Take a deep breath
You may or may not see a situation coming, but don't forget to breath! Taking a deep breath gave me a little extra dose of oxygen I needed to think as I tried to wrap my head around what was happening.
When you see it coming, pray
Breathing and praying go hand in hand. As I took a deep breath, I prayed. I was totally helpless when I saw the driver of the other car completely lose control. There was absolutely nothing I could do, but pray. I knew we were in God's hands, regardless of the outcome. I knew that before we got in the car and before any crisis I face. Knowing that I am always in God's hands is embedded in my soul.
Stay calm
It's not always easy, especially when it's life threatening or life changing. You may not feel calm inside, but remember that being calm in a tough situation will help to calm your family, children, or friends.
Reach out for support
I remember grabbing Harold's arm for support. Thankfully it didn't distract him, but it somehow gave me the comfort I needed in the moment. One of life's greatest blessings is having someone next to you to share the good times and walk with you through the hard times.
Sometimes it's a spouse, a family member, a friend, or even a stranger, like Harold. Maybe someone is reaching out for your support right now.
When you don't know what lies ahead, trust
We can plan, dream, and hope for the best in the new year. Yet, none of us knows what lies ahead in 2020. But, this much I do know – I know my Savior. I trust Him in all things. Do you?
My hope is from Him. He only is my rock and my salvation, my stronghold; I shall not be shaken. Psalm 62:5-6

Trust in Him at all times… Pour out your heart before Him; God is a refuge for us. Psalm 62:8
From my heart,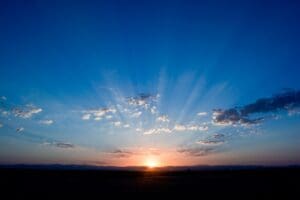 Every morning when I turn off the alarm clock, I glance over at a little pad of post-notes sitting on my bedside table that are imprinted with two words: "Stay Thoughtful." Every morning these two words start my day. They are a gentle reminder of what I should already know. "Stay thoughtful today, Susan, in what you say and in what you do." It doesn't say, Be Thoughtful, or Try to Be Thoughtful, or Remember to Be Thoughtful… it reminds me to stay thoughtful, not just over the holidays, but every day.
Then my mind began to think of other ways to stay:
Stay Kind
Stay Joyful
Stay Peaceful
Stay Compassionate
Stay Loving
Stay Content
The obvious became so clear to me, I can be these things when my focus stays on Jesus and stays on living out His love to others daily.
My mind is like a merry-go-round, whirling with things to do this time of year. A full calendar, a busy ministry, thinking about finding the right turkey on sale, finding my holiday recipes, making a list of ingredients, pulling fall decoration boxes from the garage . . . you are probably not far behind me. Our list can go on and on. Let's take a minute from this craziness before it consumes us. You and I both know there is so much more than the tasks and to-do lists over the holidays.
I know I need to stop and get off the merry-go-round I am riding. I need to refocus from doing to being, from rushing to staying. I need to stay focused on Jesus and I need to stay intentional about living out His love to others.
I think it's a good idea to start our day with this little prayer. I'll place it right next to those post-notes by my bed so I'll see it each morning when I start my day. What about you?
Oh Lord, with this holiday season approaching, and all the distractions that can so easily rob me of reflecting YOU, may I be ever mindful to . . .

Stay Thoughtful in the busyness of the season,

Stay Kind in my interaction with people,

Stay Joyful even when I don't feel joy,

Stay Peaceful in the midst of holiday chaos,

Stay Compassionate with those less fortunate than I am,

Stay Loving to those who are unlovable, and

Stay Content in my circumstances.
Have a grateful Thanksgiving, my friends, and happy cooking!
From My Heart to Yours,
I recently spent a weekend with a friend at her farm to enjoy cool weather, a change of scenery, and some down time before my busy fall schedule began.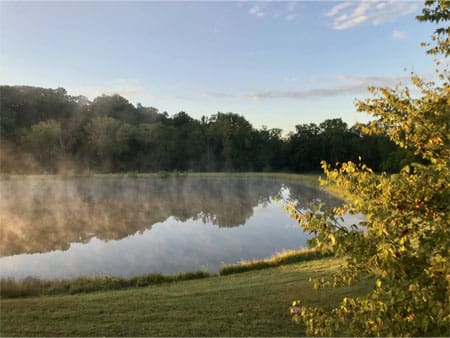 Her home was only accessible by miles of dirt road and was completely surrounded by acres of beautiful green farm land. An occasional creek would wind through the spacious land and ripple over all sizes and shapes of rocks. A quiet, still lake, as smooth as glass, was in full view from the back porch. Only an occasional fish jumping from the water broke the stillness of the water.
My friend took the opportunity to spend a morning with her family in a nearby small town, so I had this magical place of solitude all to myself. I gathered my pen and paper, a few devotional books, and nestled in on the inviting porch swing. My eyes were held captive as movement across the lake and near the woods revealed a fawn with a mama deer not far behind. For the next few hours I was isolated from the rest of the world.
I actually found myself uncomfortable with this new-found silence.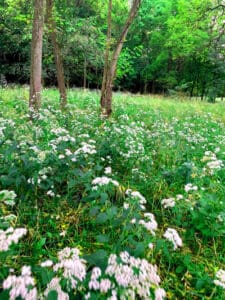 I kept getting up to go back in the house to get another cup of coffee, then to refill a glass of water. I walked around the porch that extended from one end of the house to the other, to look for any movement or signs of life in the vast landscape around me. A squirrel scampered by on the porch, as shocked to see me as I was to see him. I went for a long walk, crossed a creek, and soaked in the silence. A startled deer quickly ran across my path as our eyes briefly met.
Unlike back home, there was no sound of cars, no UPS or Amazon truck to stop at my door, no neighbors passing by as they chat and walked their dogs. No sound of sirens or traffic in the distance. No internet, no wifi, no TV, no ping of incoming texts or messages. Nothing but the whisper of wind in the trees, a bird chirping to his own tune, and a chorus of crickets in harmony.
Slowly I became comfortable with myself and with the quiet of my surroundings.
I headed back to the house and the porch – my newly discovered place of refuge and peace.
I returned to the porch swing and gently swayed back and forth for hours without feeling restless. I began to think through things, not just about them. I began to breathe deeper, relax, and drink in the quiet that filled my soul. I could hear myself think and pray without interruption or distraction. The words of scripture in my devotional penetrated my heart with clarity and new meaning. I had found a renewed and refreshed sense of myself.
The weekend slipped by much too quickly. Before I knew it, I was back in Phoenix. Life resumed its normal rhythm and the noise of my world didn't missed a beat. On especially busy days, when my world is spinning non-stop, I close my eyes for a minute and remember that gift of solitude and silence. I breathe in the memory as if I was there and, for a moment, my world stops spinning. Within that moment, I find comfort in silence once again.
The Lord is my shepherd, I lack nothing.

He makes me lie down in green pastures,

He leads me beside quiet waters,

He refreshes my soul.

He guides me along the right paths

for His name's sake.

Psalm 23:1-3
My friends, wherever you live, whatever your surroundings may be, make the time and take the time to find silent moments in your world.
Perhaps it's in the solitude of early morning or in the quiet of late night. It could be as simple as taking a long walk or going to a nearby park. It can be as easy as not turning on the TV, Spotify, the computer, or your phone. Let the only sound of distraction be the coffee maker dripping in your cup.
Be still and know that I am God.
Psalm 46:10
…in quietness and trust is your strength…
Isaiah 30:15
From My Heart to Yours
I love to read and re-read stories in both the Old and New Testament of the Bible. It is in those timeless stories that I learn immeasurable things about God – His unconditional love for us, His mercy and grace in our lives, His forgiveness, and how to be Jesus to others.
I don't know about you, but I need to be reminded of those things over and over again. Too many times the world's view crowds my mind and I can easily get distracted from the truth of God's word. I need to go back to the Bible often to read and re-read what I know and believe. His word is fresh and new every time and I am always learning more!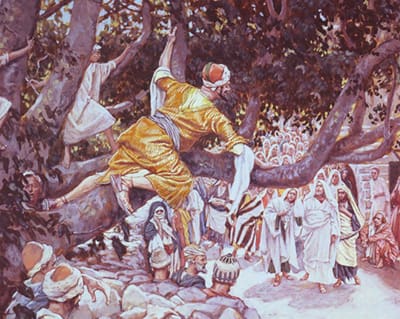 All that to say, I was preparing a devotional for a large gathering of women in my home last week and I had been re-reading the story of Zacchaeus in Luke 19:1-9. God never fails to teach me something new, or give me deeper insight or meaning from His stories. Let me give you a glimpse of Zacchaeus' encounter with Jesus and what I learned this time.
Jesus was passing through the town of Jericho on his way to Jerusalem and a crowd of people began to follow him. A rich tax collector, Zacchaeus, wanted to see Jesus too. Not only was Zacchaeus small in stature, he knew he was also despised and hated by the crowd as any tax collector was in those times. So he ran ahead of the crowd and climbed high up in the thick branches of a sycamore tree. The branches were covered with large leaves, so he could not be seen, but he could see Jesus. When Jesus came to the sycamore tree, He looked up, saw Zacchaeus, and called him by name. "Zacchaeus hurry and come down, for today I must stay at your house." He came down and took Jesus to his house in great excitement and joy.
Jesus offers unexpected love and acceptance, and that love becomes a life-changing force in Zacchaeus' life. Jesus' gift of grace to Zacchaeus prompts Zacchaeus to offer grace to others by giving money back to the poor. His inner change is revealed by his outward action and changed behavior.
WOW!! I am all over what God revealed to me in this story!! Read on….
First of all, you can't hide from God. No matter how hard you try, how far you run, or where you go, God knows exactly where you are. There is no secret he doesn't know and no past you can run from. He sees through the mask you hide behind to cover your pain, hurt, and brokenness.
Then, God sees you. Yes, wonderful, uniquely created, YOU. In the middle of a crowd, He singles you out. He's got His eye on YOU. He loves you, accepts you, and forgives you – always, forever, and no matter what.
And, God knows your name. Not only does God see you, He even calls you by name to be His own daughter. He calls you down from all the branches of busyness that cover you each day. He is calling you by name to say yes to Him!
But Wait, There's More!
Consider doing these things…
Be a "tree" in someone's life! Zacchaeus climbed a tree to be able to see Jesus. Allow others to be able to see Jesus in your life. Spread your branches of trust, faith, and hope for others to see Jesus in you daily and during tough times.
Climb higher than your circumstances for a clear view of Jesus. Zacchaeus also climbed high above the crowd to get a great view of Jesus. Sometimes you have to rise above your circumstances that might cloud your view of Jesus. It's so easy to lose your vision of Jesus when you are preoccupied with hard issues you're going through, or in the thick of your to-do list or busy schedule.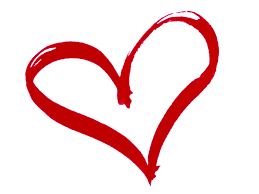 Go out and startle someone with the unconditional love of Jesus. Jesus "startled" Zacchaeus by seeing him hidden in the sycamore tree and calling his name. Be Jesus to someone and "startle" them by showing His love today. The best place to start is with your family!
I think you and I – and Zacchaeus – have learned a whole lot of life-changing stuff from his simple little story. Sure does entice me to want to read more. I'm hoping you do too….
From My Heart to Yours,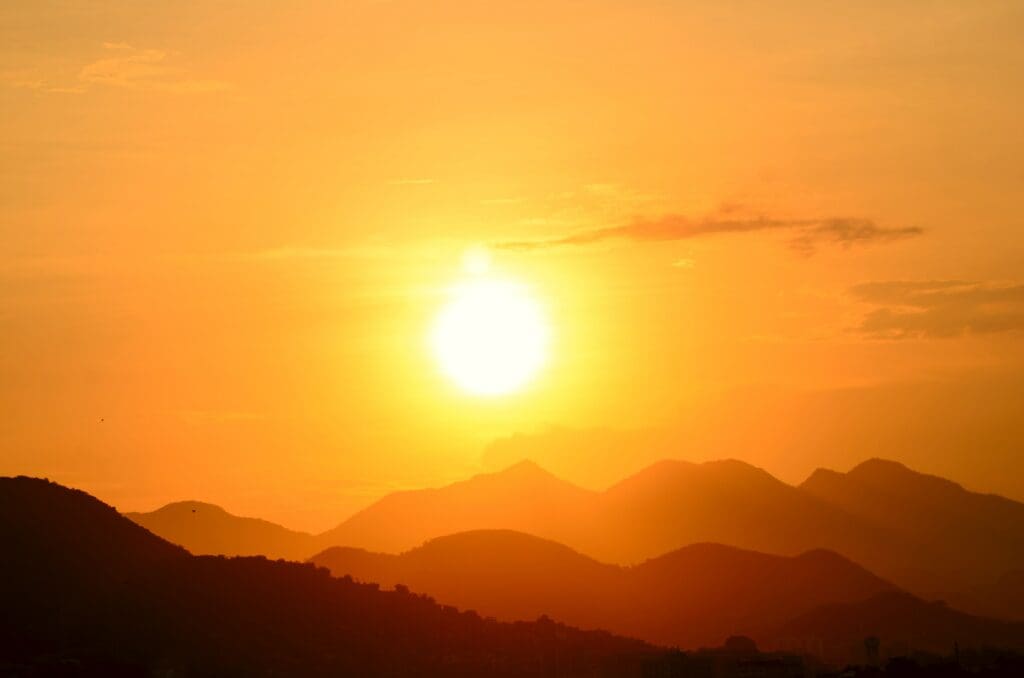 Sometimes the heat that comes with the summer is not always about the temperature.
Sometimes the heat in our lives rises to the pressure point or the stress level because…
the unexpected happens,
our circumstances change,
the rug gets pulled out from under us,
life comes crashing down,
hopes and dreams are shattered.
When the pressure is on, we need to keep an eye on our internal thermometer to gauge the heat caused by stress.
Just like a cup of cool water will replenish our body, God's word will refresh our soul, renew our mind, and restore our emotions. Remember, God doesn't always change our situation, but He will give us strength, hope, and encouragement so we can face each day. Reading scripture can be like a soothing balm to help us beat the heat that will inevitably come during any season of life. Redirecting our focus on God and His word, will help us to live above the stress and pressure of our circumstances.
I am constantly reminded that the issues, problems, and trials in life will constantly change, but God never changes. He is our anchor in the droughts and the storms, our lighthouse to guide us when we cannot see what lies ahead. Be encouraged and never lose hope, my friends.
These are some summer Bible reading tips that I enjoy. You might want to consider some of them.
Read a verse or a chapter out loud. You not only see the word, you also hear and say the word.
Memorize a particular scripture that is meaningful to you by repeating it over and over to yourself.
Personalize the verse by inserting your name. After all, God IS speaking to you!
Underline, date, and make notes in the margin when scripture speaks to you.
In a blank journal, write topical headings like hope, peace, contentment, etc. Write down verses you read that apply to each topic. Keep the journal with your Bible for easy reference and to add more as you discover a verse that fits your topics.
Write a "P" beside the scripture that is a promise from God and a "C" that is a command from God.
Read entire sections so you will not take anything out of context or misunderstand what you are reading.
Do a word study to understand what the word or phrase means.
Clip the verses below and post them on your refrigerator, mirror, in your car, or by your bedside. Add your own favorites to the list.
A Summer Reading List to Help You Beat the Heat
Jeremiah 29:12-13
Then you will call upon Me and come and pray to Me, and I will listen to you. And you will see Me and find Me when you search for Me with all your heart.
Lamentations 3:19-25
The Lord's loving kindnesses indeed never cease. For His compassions never fail. They are new every morning; great is Thy faithfulness. "The Lord is my portion," says my soul, "Therefore I have hope in Him." The Lord is good to those who wait for Him, to the person who seeks Him.
I Peter 5:10
And after you have suffered for a little while, the God of all grace, who called you to His eternal glory in Christ, will Himself perfect, confirm, strengthen and establish you.
John 14:27
Peace I leave with you; My peace I give to you; not as the world gives, do I give to you. Let not your heart be troubled, nor let it be fearful.
Isaiah 40: 28-31
…Yet those who wait for the Lord will gain new strength. They will mount up with wings like eagles. They will run and not get tired. They will walk and not become weary.
Isaiah 41:10
Do not fear, for I am with you; do not anxiously look about you, for I am your God. I will strengthen you, surely I will help you, surely I will uphold you with my righteous right hand.
Psalm 37:3-5
Trust in the Lord, and do good; dwell in the land and cultivate faithfulness. Delight yourself in the Lord, and He will give you the desires of your heart. Commit your way to the Lord, trust also in Him and He will do it.
Joshua 1:9
….Be strong and courageous! Do not tremble or be dismayed, for the Lord your God is with you wherever you go.
Romans 15:13
Now may the God of hope fill you with all joy and peace.
Psalm 119:28
My soul weeps because of grief; strengthen me according to Thy word.
Proverbs 3:26
For the Lord will be your confidence and will keep your foot from being caught.
Colossians 3:2
Set your mind on the things above, not on the things that are on earth.
Philippians 4:11
For I have learned to be content in whatever circumstances I am.
Ephesians 3:20-21
Now to Him who is able to do exceeding abundantly beyond all that we ask or think, according to the power that works within us, to Him be the glory.
God, make yourself known to me through your word. Let me feel your presence as I go through a very difficult and hard summer. I am in a very dry and hard place in my life right now. Refresh, replenish, restore, and renew me. Amen
I wrote this timeless blog years ago about the summer adventures of my grandchildren and the things I learned from them and about them during our time together. Time has flown by so fast. Now, one is in college, one just graduated from high school, and four range from a freshman to a senior in high school.
Since this blog was so well received by both moms and grandmothers, I thought it was worth repeating. The principles are as applicable today as they were then.
---
My summer highlight is when all six grandchildren, ages ten to sixteen, gather together for a cousin reunion, better known as "Cousin Camp." (May they never outgrow that name!) All the planning, preparation, prayer, and shopping that go into our once-a-year tradition has come to an end for another summer. I loved every minute. I cherish the legacy created, the memories made, the traditions established, the pictures captured—along with finding a hair band or a tee-shirt left behind.
Some things never change, but I smile at the new changes that come each year as everyone gets older. I find myself wanting time to stand still.
They are growing up much too fast and too soon.
Gallons of lemonade and my popular peach-mango tea were still consumed, but the new crave was―water. A trail of water bottles went from room to room. I finally had everyone put their initials on the cap with a Sharpie to identify whose bottle was whose. I still line up paper cups on the kitchen counter and have each person write their name on one. Sure saves a lot of confusion and fussing over cups—and water bottles.
I still made an abundance of peanut butter and jelly sandwiches and mounds of spaghetti, but a big healthy salad was the number one choice with the girls. My oldest granddaughter loves to bake, so her desserts from Pinterest were a big hit with all of us, especially the boys.
This was the first year we didn't make crafts. Our stapler, glue, cut-out, and color craft days are over. Last year, simple was replaced with sophisticated. Crafts became a life-work for everyone, so they opted out this year.
This year, the Disney channel took second place to the Food channel and HGTV. We all enjoyed discussing the food and home shows together.
Key word—together.
Issues like fixing an overflowing toilet, running out of hot water before the last shower, and the ice maker running out of ice, never seem to change. They took more showers and spent more time fixing their hair—it comes with age, I guess.
I still took at least 100 pictures, but instead of hearing "Nana, please…n-o m-o-r-e pictures," it was, "Let me see how I look." Guess that comes with age also.
It seemed everyone was always looking for a missing flip-flop or phone charger. An empty electrical outlet was always in demand since being tangled in cords, plugs, and chargers is now a part of life.
I thought I was really clever in suggesting they each put their initials on their chargers with a Sharpie to easily identify them. They thought that was so smart. I may not know how all their electronics work, but my common sense sure was a winner. (Sharpies are my new best friend!)
This year I started a "no phone zone" and a "no phone time." Nana's rules: no phones at the kitchen table or in a restaurant during family time together, or when others are talking with you. I – w i l l – n o t – g i v e – u p – o r- g i v e – in!
My three grandsons and three granddaughters played board games anywhere they could gather around a table ― day or night. They rode bikes and boogie boards, went swimming, played kickball, wiffleball, volleyball, and softball for hours of fun and bonding. I stood on the sidelines with my pom-poms cheering them on.
The sound of giggles and conversations continued until "lights out" echoed up the stairs. Staying up late and sleeping in has become a summer ritual.
Another tradition is our "Summer Birthday's Celebration." Since we are all together only once a year, we celebrate everyone's birthday with cake and ice cream, sing Happy Birthday as a group, and each person wears my silly birthday hat and has their picture taken. Corny? Yes. But they always seem to remind me not to forget. Some things never change…thank goodness.
I watched, participated, listened, and learned. I have tucked the tender moments in my heart.
God teaches me life lessons through the world of my grandchildren and reminds me of things I know, but can easily forget, in the busyness of my daily life. Perhaps they will be a good reminder for you too.
It's not about me. I learned to put aside my schedule, my agenda, and my wants. Cousin Camp is just that—it's all about the cousins.
Have no expectations. The sooner I learned to relax and let go of any expectations of our time together, the smoother the days went, and the more fun we had. God had to work with me on this one!
Above all, don't compare. I was reminded that comparing grandsons and granddaughters who are different ages, have different personalities and temperaments, and come from two different family life-styles, is unfair to the child. Accepting their differences allows each one to be who God made them to be, without the pressure of performance to please.
Movies vs. games. There is a huge difference in watching movies and playing board games together. You have to be quiet to listen and watch a movie. Board games encourage conversation and interaction. There is a time for both, but I learned not to defer to movies to keep everyone occupied.
Making crafts creates memories. As long as they love it, do it. It gives them the opportunity to share ideas, learn from each other, and compliment each other on their accomplishment. Although my grandchildren have outgrown making crafts, they still have some of the simple things they made from years ago. When they lose interest in making crafts, there will be other ways for them to express their individual creativity. My granddaughters love to cook and bake. They create fun memories in the kitchen together.
Talk time is priceless. Whether it's sitting outside or around the dining table, be intentional about gathering together, with no distractions, to create conversation time. With a few questions, I learned about what they were thinking, things they were doing, and caught a glimpse of life through their eyes. And they learned about each other.
A little space is a good thing. Every person needs some time and space to do their own thing. I learned they don't have to always do everything together or in a group.
It's caught, not taught. Kindness, thoughtfulness, and being considerate of others are best caught through the example of how I treat them and others. Pointing out the error of their ways in front of everyone else can be embarrassing and humiliating. If I had to correct someone's behavior, I would do it one-on-one, away from everyone else. We would sit on the floor together, eye-to-eye, and talk it through, ending with a hug and a smile that conveyed my unconditional love.
Choose your battles. I learned to ask myself, "Is this a hill high enough to die for? Am I making a mountain out of a mole hill? At the end of the day, will it really matter?"
A sense of humor goes a long way. I learned to lighten up, laugh a lot, and that being silly brings giggles from all ages.
Manners matter. Please, thank you, excuse me, I'm sorry, chew with your mouth shut, and elbows off the table, have always been a part of "Nana's Manners," and manners are not left at the door at Cousin Camp. My daughter often says in jest, "You don't want to have to go to 'Nana's Manners School.' It lasts for hours!" I learned that you don't give up on what matters.
Hold hands and stick together. Cousin Camp is all about connecting with each other, building memories, and learning the importance of being a part of something bigger than yourself—your family. I learned that when you encourage them to hold hands and stick together, one day you will have the joy of seeing them do it on their own.
I am also reminded that these are not just lessons learned regarding my grandchildren, but also with my adult children and their spouses, extended family, friendships, and those I serve with in ministry. Lord, keep teaching me, reminding me, and never let me forget.
May Cousin Camp memories live on in our hearts for years to come.
From My Heart to yours,
P.S. As an encouragement to all those who tirelessly pour time and life skills into your children and grandchildren thinking, "Will I ever see the fruit of my labor and love?"―don't give up! The seeds you plant, the things you say and do, and how you continue to pursue a life worthy of imitation will, at some point, begin to bear fruit and grow. Even though we may never see results in our lifetime, God is faithful and will honor our good work in His perfect timing.
As my grandchildren get older, I see kindness and thoughtfulness emerge all the more. I hear manners being practiced at the table and with others. And just recently when all the cousins were together for a yearly visit, they were united and bonded as a family who has connected and built memories together.
May Cousin Camp memories live on in our hearts for years to come…